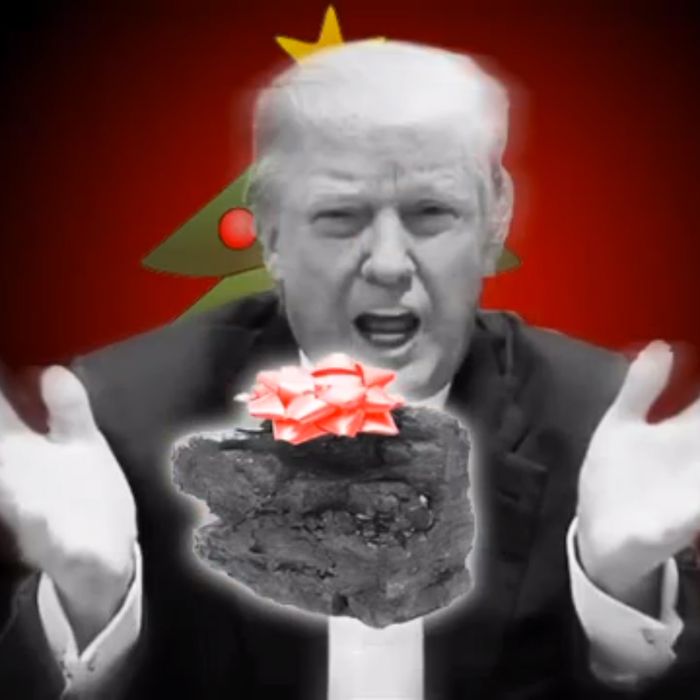 "If I went inside Macy's and said some of the things that [Donald] Trump has said, security would escort me out," Angelo Carusone told the Cut today. "And, yet, Trump gets a big deal and a shelf and a Macy's promotion. It just doesn't seem to make sense."
Carusone, 30, and an employee of Media Matters — "my Macy's work is not connected to my day job" — started SignOn.org's "Dump Trump" petition on October 24, urging Macy's to steer clear of Trump, whose fashion line and fragrances are sold in stores. The real-estate mogul also stars in the chain's Miracle on 34th Street–themed holiday ads as the skeptical Susan-like character. Among the reasons Macy's should get rid of Trump, from the letter: He has "long engaged in sexist behavior," "hypocritically complained about jobs being shipped overseas to China," "use[d] his public platform to deny the reality of climate change," and "perpetuated the racially-charged birther conspiracy." As of now, it has more than 658,000 signatures.
"I didn't start [the petitioning] like, Boycott Macy's, everyone, boycott Macy's," Carusone explained. "It started out with, 'Here's this thing going on, here's what Macy's said … here's what Donald Trump's brand represents, and we urge Macy's to sever the ties.'" According to Carusone, he gave CEO Terry Lundgren multiple opportunities to respond to petitioners, but Lundgren chalked up most of the controversy to the holiday ads. Trump, of course, took to Twitter, posting reminders like, "My fragrance–"Success"– is flying off the shelves @Macys. The perfect Christmas gift!" or insults meant for Cher, who expressed her "Dump Trump" support from the get-go.  
Carusone plans to finally deliver the petition tomorrow at a rally of sorts, where once-loyal customers are going to cut up their Macy's credit cards — per a press release, it will be held outside the Herald Square store in Manhattan at 12:30 p.m.; however, he said, "I'm worried that I'm going to have to tell people not to come because the response so far has been very, very strong. I got hundreds of RSVPs, and I can't have an event like that … that many people in New York City. So, what I'm going to have to do is limit it to the people who have credit cards … at my last count, I had 26 people who confirmed that they had credit cards and could attend, and ten who had credit cards, but didn't know if they'd have the time on Tuesday, but still wanted me to send the notice when I set the location." Wouldn't everyone with or without cards already know the location? "Yeah, it's Herald Square." (Carusone encourages those around the country to cut up their cards on their own.)
"I don't want to be disruptive," Carusone went on. "I'm a pretty reasonable guy. I'm a little bit uncomfortable even doing this in the first place." He added, "I don't want to get too close to the Thanksgiving Parade. There's enough time between Tuesday and Thursday that we're not going to disrupt or have any problems with it." In fact, he says his fight is more about Macy's: "My relationship with Macy's started before I was a customer. I went there as a kid and I sat on Santa's lap. I marveled at the fireworks, I watched the parade."
"I'm not interested in changing Donald Trump's behavior or making him pay or anything like that," he continued. "What this is about is Macy's decision to build a fashion business on top of Trump's brand … and to me, when I think about that brand, I think that's not something that should be rewarded or promoted, and certainly not something that is consistent with the magic of Macy's."