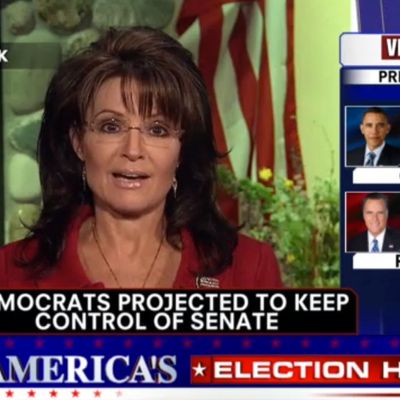 With her audition for the forthcoming (in my dreams) Real Housewives of Wasilla series finishing up just in time, Sarah Palin appeared on Fox News yesterday evening to say things about the election that no one really paid much attention to because her new do was so big and distracting. (It's full of juicy Republican secrets that she's saving for the sequel to Going Rogue.) A schmaltzy combination of furious back-combing, Michelle Duggar's old bangs, and the sweaty Bumpits Snooki donated from her closet to Hurricane Sandy relief, Palin must be experiencing problems similar to New Mexico's Governer Susana Martinez: no well-qualified hairdresser willing to pitch in. 
In the Republican stakes, Ann Romney brought out big hair of her own last night in Boston with a tousled updo on show — the higher the hair, the closer to Elohim, after all. With voters finding ways to "shut down" Todd Akin, Claire McCaskill's daughter Lily wore a milkmaid's plait reminiscent of former Ukranian prime minister Yulia Tymoshenko for her mom's victory speech, as well as a dress with two different-colored sleeves. "Hipster socialism is rampant in Missouri," conservative websites will soon proclaim.
Best of all, one exuberant Obama fan made sure she'd never miss the chance to applaud last night's results and stuck her little American flag in her weave. Flag-head lady prevailed as the evening's best meme, even besting Karl Rove's meltdown — yet another hairy sign that minority election participants bested the old white establishment. How's that wispy, Rogaine-y stuff working out for you now, eh?