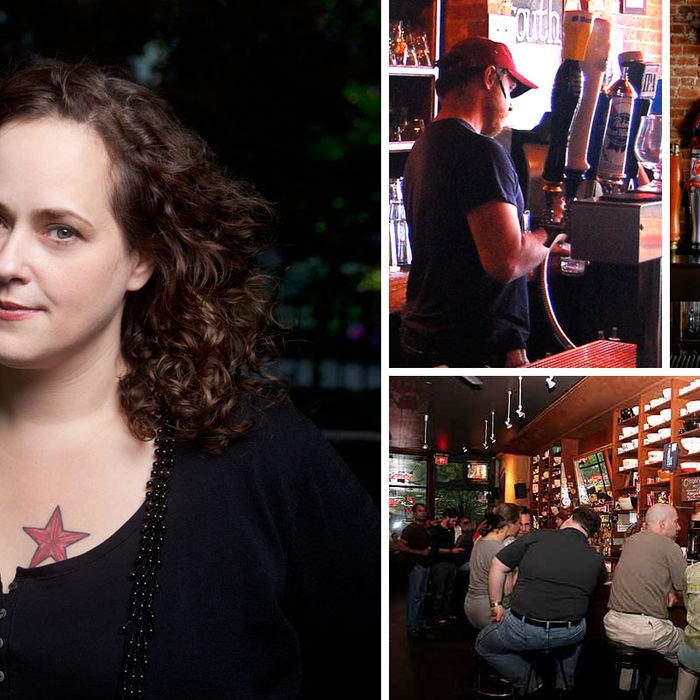 There's a scene in The New York Times Magazine drinks columnist Rosie Schaap's memoir (due January 24 from Riverhead Books) where a male friend, drunk off Schaap's signature holiday glögg, announces that he wants to own a bar "where a woman could come in, sit down with a book, read, have a drink and not be bothered." With all due respect to the bar he eventually opened (Fish Bar on East 5th Street), there's no drinking establishment where a woman can read Schaap's memoir completely unmolested.
Its title, Drinking with Men, is like an invitation to the opposite sex to interrupt you, while the brown bar stool on its cover dispels any appletini-swilling, husband-catching connotations. Schaap chose publisher Riverhead Books in part because her editor there promised her no pink, no fishnets, and no cocktails on the cover.
"It's not that kind of book," Schaap told me over Jameson and beer Monday night. She describes Drinking with Men as a coming-of-age story told in bars, starting with the bar car of Metro-North commuter train, at age 15. Publishing loves an addiction-and-recovery saga, but Drinking with Men is no cautionary tale. For Schaap, bars are living rooms for surrogate families of warm and weird "regulars." In her world, everyone makes it home all right, and no one ever has to get clean. Schaap, who estimates she has logged 13,000 hours in bars (including a weekly early shift at her local pub South), admits she has been incredibly lucky. But adulthood catches up with everyone: Bars close; the Twin Towers fall; and friends, parents, and lovers are lost. "It's got a high body count," she said of the book.
Which is not to say Schaap is bereft of drinking buddies. We met in Brooklyn's quiet South Slope neighborhood, where Schaap has lived for sixteen years, tended bar for two, and, as far as we can tell, knows literally everyone. With frequent breaks for chats with regulars and neighbors, from the raccoon-eyed artist still high from last night to the glowing pregnant woman waddling to an interview with a midwife, we talked about being the only woman in the bar, holiday drinking survival, and why you should consider trading Christmas sales for a British-style Boxing Day pub crawl.
Some people say that Thanksgiving Eve is the best bar night of the year; everyone's off work and meeting up with old friends. What makes a good holiday-reunion bar?
Somewhere close to mass transit because you want everyone to make it out. My birthday is in the dead of January, every other year there's a blizzard, so I keep these things in mind. And somewhere inexpensive. Someone in that group is probably making tons of money, and someone is making none. Going somewhere that can accommodate the person making none is most important. In New York, Tom & Jerry's is always a good place for a group. The bartenders are great, they can make a good cocktail, but it's not fussy — a good neighborhood bar.
What about for parents and grandparents who require slightly fancier holiday cheer?
Around the holidays, King Cole Bar is glamorous and festive and old-fashioned — not to make a dumb cocktail pun. If you have to do some shopping in midtown, it's handy for that. If you have people visiting from out of town who have to go to Times Square, and you want to drag them out of that and bring them somewhere civilized, historic, and beautiful, the Blue Bar at the Algonquin is an oasis in that part of New York. As for me, I'll probably be sticking close to home for Christmas. I'll be behind the bar at South this year. It's a short shift, but I'm interested in seeing who turns up — people who finish their dinner early and some atheists, drinking like it's just any other Tuesday. I think it'll be nice. Come on down.
You've engaged in more than your share of alcohol-fueled debates. We haven't seen our families since there was a chance Mitt Romney would be president. What's the trick for getting through dinner without homicide?
So much of it is a matter of tone. If people can tell that, even if you're totally opinionated, you don't think badly of them. But your opinion's not going to change. You're just having fun.
There was a super-geeky music argument at South last week. I wound up calling two of my beloved regulars philistines, and they laughed and smiled, and we were all okay with it. They can understand that some little, semi-joking, cheerfully argumentative part of me totally does think they are philistines, but I love them anyway.
Why is that so much harder to pull off when you're related to the people?
[Laughs.] Historically, I haven't really enjoyed Thanksgiving with my family. For years, I was able to avoid all family drama by volunteering to work in a soup kitchen on Thanksgiving. Who's going to give you grief about being in a soup kitchen or a food pantry on Thanksgiving? No one, except the Grinch.
As a teenage Deadhead, you spent one Christmas in a California motel drinking Anchor Steam and eating Cool Ranch Doritos. Have you spent Christmas in a bar?
I haven't. Boxing Day is my bar holiday. It's the day after Christmas, a big shopping day. Historically, it's when the servants would come and collect their "boxed" gifts, but it's become for English soccer what Thanksgiving is for football. So there's just game after game after game. It's one of my favorite days of the year, having a totally legitimate reason to sit in a bar all day, drinking and watching soccer. Black Horse is good for that; they'll sometimes put out bangers and mash or something traditionally English for lunch.
What should a woman look for in a bar where she can become a regular?
Most women are good at reading a bar. Sometimes it's the old Western cliché where everyone whips their head around — you're the stranger in the saloon — and you know when you're not entirely welcome. A neighborhood bar is your best bet, somewhere that's not going to be a destination for people from all over the place. A place that has regulars, although almost every bar is going to have mostly male regulars.
Doesn't that make you the resident crush object?
What I discovered by being the regular and mostly drinking in the company of men for so long is that you become one of the guys. That's a real comfort in some ways, a guard against getting hit on. It can also be frustrating because sometimes one is going to be attracted to one's fellow regulars!
Are women held to a different standard than men, in terms of acceptable public drunkenness?
I think there is a double standard. There's something regarded as particularly tawdry about a drunk woman. Men are expected to be drunk regularly but pull it together and go to work. Men never have to worry about mascara running. Well, most men don't. There's something about a drunk woman that's regarded as a spectacle, even if she's not doing anything destructive or outwardly outrageous, and that's not fair. I don't think that's why there are fewer female regulars. But it's part of it, inasmuch as women don't want to become that. Young women in particular are afraid of that stereotype.
Why did you switch from bargoer to bartender?
In 2010, my husband had passed away, and I was working freelance, mostly from home, and I was a little isolated. South had just opened, and the owners asked me if I wanted to take a shift. I hadn't been on the far side of the bar for fifteen years. I love how it breaks up my week. It's the opposite of writing. It's physical, you're on your feet, and you have to engage with people.
I really love seeing a friendly female presence behind a bar, and I think female customers appreciate it, too, that you're just sort of keeping an eye on everything. One of my colleagues pointed out that drunks can be like babies. One minute they're happy and smiling, and the next they're crying and having a tantrum. A good bartender has several pairs of eyes. I think there really is a connection between women on both sides of the bar. You can tell if a woman's being annoyed by someone or just wants to be alone with their book. If a male customer wants to buy a female customer a drink, he should have to do it through me. It's much easier way for a woman to decline that way.