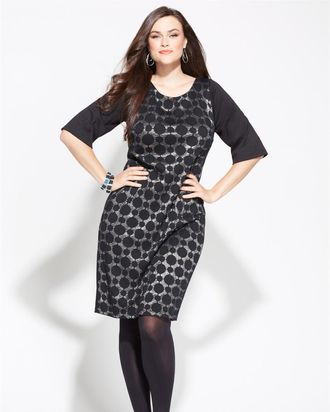 A look from plus-size brand Avenue.
Photo: Avenue
Just last week, the Times ran a long piece on the increasing number of plus-size fashion bloggers — women like Gabi Gregg and  Nicolette Mason who love clothes and also happen to be larger than a size 16. Indeed, plus-size bloggers are getting lots of attention these days. Gregg was on the Today show earlier this year, and Mason has her own column in Marie Claire, titled "Big Girl in a Skinny World." You'd think this exposure would result in more plus-size offerings from major retailers, who often take cues from the media. But a new study suggests this isn't the case.
The study, brought to our attention by Buzzfeed Shift, is titled "Frustrated Fatshionistas: An Institutional Theory Perspective on Consumer Quests for Greater Choice in Mainstream Markets" and was recently published in the Journal of Consumer Research. The gist of it is this: in the past decade, plus-size (or self-described "fat") fashion bloggers have established their presence mainstream media, gaining a strong platform for demanding larger sizes from mainstream retailers. However, those retailers have not responded accordingly. Most still do not have many plus-size options, if any.
One of the study's authors, Eileen Fischer of York University, attributes this strange dearth of plus-size clothing to the general stigma against fat people. She tells Buzzfeed Shift that marketers just don't seem interested in testing ways to sell plus-size clothes the way they would any other line. In other words, even if a store launches a plus-size line, they won't put a lot of effort and money into it, and then it'll fail. (This happened to both Ann Taylor and Ellen Tracy when they tried to expand their plus-size offerings in recent years.)
There's also a longstanding argument that retailers don't want to make bigger clothes because larger samples are expensive to make and the measurements can be tough to standardize. Fisher doesn't buy it, though. "At some level they could still make more plus-size offerings and make money," she says.
She's right, obviously. The country is full of plus-size women who want to buy cute clothes. Which leads us to a more optimistic take on the plus-size clothing industry, courtesy of Mason, who says that the independent plus-size marketplace is actually thriving. She wrote to us today:
It's difficult to pinpoint a correlation between bloggers/visibility and industry change, but what I'm actually seeing in the market is more independent lines popping up all over the place.

Just this week, I learned of a new high-design line out of the UK called 113. There are also designers and brands like Gisela Ramirez, JilRo, Domino Dollhouse, Chinoo Designs, Jibri, Mynt 1792, Cabiria, and more that have all emerged over the past year. Then, there are indie designers like Carmakoma, Monif C, Re/Dress, Igigi, and more that continue to grow and gain distribution through major retailers like Lane Bryant, Sonsi, or OneStopPlus. Of course, existing brands like Vince Camuto, Josie Natori, Lucky Brand, Jessica Simpson Collection, Lafayette 148 NY, Kenneth Cole, Splendid, Native LTD, etc. continue to expand and develop their plus-size lines. Beyond that, there are partnerships and collaborations that bloggers themselves have participated in – like a new bespoke clothing line launched by Mandy Fierens of The Curvy Blogger (starting with a kickstarter campaign), and a collaboration UK retailer SimplyBe just launched with three UK plus-size bloggers. 
So as you can see, while mainstream retailers may be lagging, some designers are listening (and surely profiting from it). Maybe someday, the big brands will catch up.