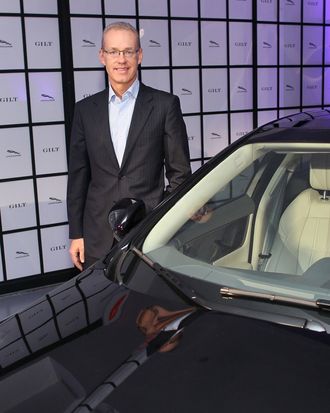 Kevin Ryan.
Photo: Neilson Barnard/Getty Images
When Gilt Groupe started back in 2007, it was a brilliant idea. Thanks to the plunging economy, retailers couldn't get rid of their merchandise fast enough, and no one was willing to buy anything for less than a killer bargain. The environment was ideal for an e-commerce site to gather up the surplus items and package them in a recession-friendly way. In those days, those of us who still had an income (and even those who didn't) would pore over the Gilt Groupe e-mail that we'd receive daily at 11:45 a.m., counting down the minutes and Gchatting about what we were hoping to buy when the sales went live at noon.
Gilt's instant success meant that their plan was widely copied. A bunch of competitors soon popped up, and flash sale sites are now a dime a dozen. As the novelty wore off, so did the supply; stores adjusted their business plans to the recession, and people returned to buying retail as the economy began to recover. Gilt tried to adapt to the changing environment by expanding into new territories like wine, spa services, and home decor. They also launched two full-priced e-commerce sites, which proved to be ill-fated: Park & Bond, which sells menswear, is set to close once they run through their inventory, and Gilt Taste, which sells fancy food, has been scaled back. Gilt laid off a number of employees earlier this year, shuttering several offices nationwide. 
Regardless of Gilt's recent missteps, the Journal reports that the company is plotting an IPO bid for sometime in the next eighteen months, and that Ryan is stepping aside in favor of someone better-qualified to facilitate it. Finance-wise, the company is perfectly healthy these days, reporting plans to break even on sales of over $600 million this year. They're relatively well-positioned for their IPO when it comes to the numbers, according to the Journal:
Gilt was valued at $1 billion last May when it raised $138 million from Goldman Sachs Group and other firms. The company hasn't raised any money since then, but its valuation has hovered between $880 million to $1.1 billion, according to July secondary market contracts for Gilt's common stock listed on Sharespost.

The valuation was high for a company with just $370 million in revenue last year, a sign investors were betting on faster growth. Gilt doesn't publicly report its results, but a person familiar with the matter said it expects to break even on sales of more than $600 million this year.
This is all well and good, but there's no question that Gilt has lost much of its initial luster, from a consumer's point of view. Will it stay at the forefront of the e-commerce world, continuing to develop fresh ideas to package products? Or will it continue to fade into the pack of flash sale sites that saturate your inbox every day? 
While Ryan is expected to remain active on Gilt's board, it'll be interesting to see if he turns his attention to another new venture.