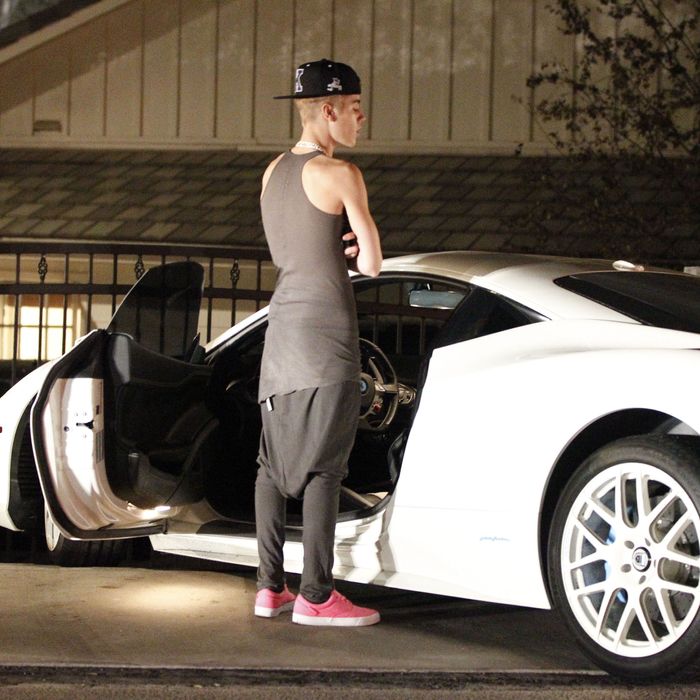 Photo: FameFlynet Pictures
There are conflicting reports about what went on between on-the-rocks couple Justin Bieber and Selena Gomez over the weekend, but we can say with confidence that Gomez was justified in all teenage breakup histrionics if and when Bieber was wearing these unfortunately diaper-esque pantaloons.
BuzzFeed Shift notes that the drop-crotch, ankle-tapered leggings have become a wardrobe staple for Biebs. And we can get behind that from a functional perspective. The harem pant, as Psy and MC Hammer demonstrated at the American Music Awards last night, offers Bieber utmost mobility without tripping up his footwork. It's great if you're a dancing teen pop star, but not ideal if you're trying to not get dumped.  
Even the most fancy high-fashion harem pants are not recommended for a Friday night make-up date with your superhot girlfriend whose first big-girl movie is due out soon and whom you recently annoyed by running around town with a Victoria's Secret model. (In this respect, Kristen Stewart is our model for appropriately miserable atonement attire.) Of course, some outlets maintain that there was no spat, that the restaurant dinner was abbreviated because they decided to get takeout, not because of an argument, and that Bieber appeared locked out because Gomez's gate was malfunctioning, not because she wanted to feed him to the paparazzi.  
But we'd like to think that Gomez couldn't bear to be seen with him in those pants. Not at the American Music Awards (where Bieber walked the red carpet with his mother and met up with Gomez later), not at an Encino sushi restaurant with $13.95 all-you-can-eat hibachi, and not even in the privacy of her own home.