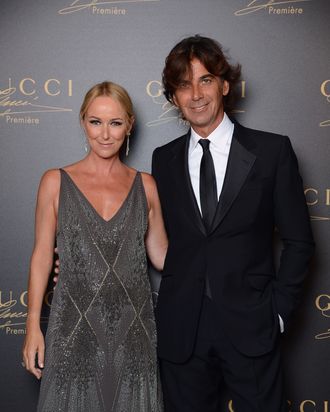 Parents-to-be Frida Giannini and Patrizio di Marco.
Photo: Venturelli/Getty for P&G
Frida Giannini and Gucci CEO Patrizio di Marco disclosed their steamy workplace affair — er, relationship — last October, admitting that they'd been seeing each other secretly for two years. You know what comes next: They're having a little Gucci bambino together! WWD reports that Giannini plans to work throughout her pregnancy and will attend both the brand's men's and women's shows in January and February, respectively; she'll then take a few months of maternity leave and come back at the end of June. Yet another reason to date a co-worker: Your baby daddy's always around to fetch you that gelato you're craving at 10 a.m.
Related:
Frida Giannini and Gucci CEO Patrizio di Marco Admit to Having a Steamy Workplace Romance
Eight Essential Lessons on Co-worker Flirting