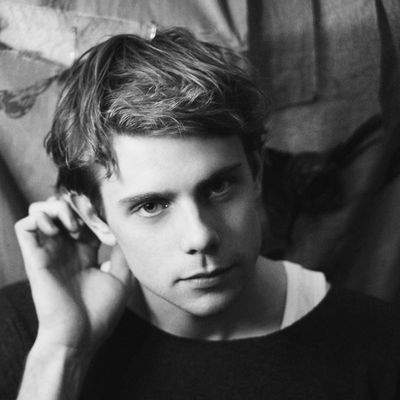 J.W. Anderson.
Photo: Thomas Lohr
Although he's not technically Christopher Kane's permanent replacement, J.W. Anderson will temporarily take over design duties at Versace's diffusion label, Versus, for a capsule collection, Donatella Versace announced today. The 28-year-old London-based designer, who recently collabroated with Topshop, is having quite a week: Just a few days ago, he won the Emerging Talent Award for Ready-to-Wear at the British Fashion Awards. His Versus collection will be presented in New York sometime next spring, according to WWD. 
In the wake of Kane's departure from Versus, which was initially linked to rumors of him taking the helm at Balenciaga, Donatella says that the brand is trying a new design model: Rather than having one designer, she'll collaborate with emerging faces — including designers, stylists, and "creative talents" — for a series of one-off capsule collections. And by "creative talents," you just know she means celebrities. Maybe that's the real reason Kane got out of there.
One could also speculate that this is just Versace's way of testing the waters for Anderson to replace Kane, and he might wind up with a permanent role at Versus after all. 
Related: 
J.W. Anderson: 'Now Is the Hardest Point I've Ever Had'
Christopher Kane to Leave Versus, Didn't Accept Any Other Jobs Over the Weekend