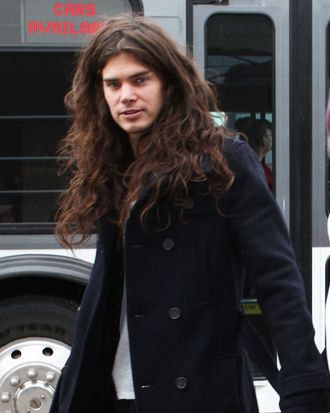 Photo: SWAP/Splash News/Corbis
We're sure the vegan chef and boyfriend of Kelly Osbourne, Matthew Mosshart, has a lot to be thankful for this Thanksgiving, but one reason that stands out to us is his flowing locks. Dark and wavy, thick and lengthy, there seems to be enough there to create multiple sets of hair extensions or warrant a full once-over by the TSA. His hair inspirations likely include Captain Hook, Seinfeld's Elaine, or King Louis XIV. But we imagine that the maintenance for his hair — almost always kept loose with a few strands tucked behind each ear — is rather minimal because, well, he's a hippie dude. With that in mind, here's how we'd take the utmost care of those beautiful strands if they were ours, because we've definitely thought about how to steal 'em.
Ouidad Wide Tooth Comb ($7): Created by a hair-care line that specializes in kinks and curls, this comb is meant to easily navigate hair without getting snagged on knots. Use it to eliminate frizz.
Not Your Mother's Clean Freak Refreshing Dry Shampoo ($6): Because keeping all that hair clean, conditioned, and combed is a workout on its own. This vegan dry shampoo will keep hair fresh for the in-between days when his arms are sore.
Kérastase Elixir Ultime ($25): This four-oil blend treatment will fortify ends and keep follicles healthy when applied to damp or dry hair. A dollop of it can even be added to shampoo for an extra dose of hydration. 
Leopard-Print Satin Pillowcases ($29.99): There's something so freeing and downright animalistic about all that flowing hair, so why not prevent overnight curl-squashing by resting your head on smooth, satin pillowcases?