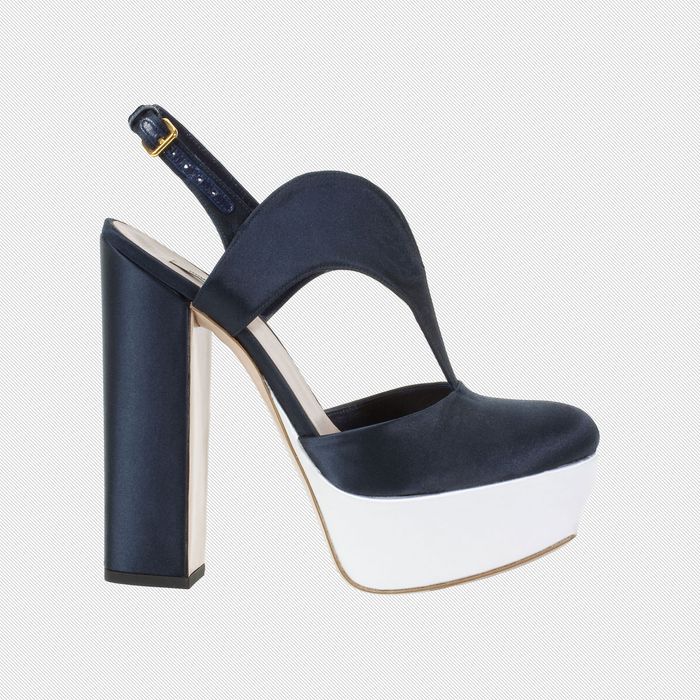 Platform shoes are powerful. They symbolize both sex and authority, yet striking the balance is a challenge. The right pair lends presence, and they can be the final touch to a high-fashion look. The wrong pair can tear a ligament or worse, make you look like an aspiring reality-TV star. In winter months, platforms worn with cozy stockings are a dressed-up option that protects against damp ground that might otherwise ruin a good pair of heels. Some will scoff and go put on rain boots, but platforms trace back to the middle ages, where they were the chosen shoe among noblewomen forced to tread through medieval muck.
Well-educated Venetian courtesans and noblewomen of the renaissance wore them for physical and symbolic reasons. Chopines, as they were then called, protected the feet from uneven streets, but also established a stature that matched a lady's social status. A distant ancestor to the wedge platform, they were literally pedestals, elevating a woman sometimes over ten inches. Catherine de Medici loved them, as did other European power-women, who wore versions of them through the eighteenth century, hiding them under huge ball gowns. Disappearing almost entirely in the nineteenth century, when women's feet took on daintier proportions with Victorian dress, they reemerged in the thirties namely on leggy cabaret girls and Hollywood starlets. The seventies saw a boom in platform-wearing, tangled up with the decadence of disco music, birth control. and women's lib. The shoe became a symbolic accessory that made women feel taller, more powerful, and a bit vampy on their own terms.
This decade, every designer has their own take on platforms, and some newer footwear designers like Charlotte Olympia and Nicholas Kirkwood are known almost exclusively for them. With so many, it's difficult to know which ones are good. The trick is finding fun, fashionable platforms as opposed to those that are fetish-inspired. If you look online, you'll be flooded with the latter — spindly heels vertiginously pitched over two-inch-high platforms. These aren't shoes for comfort or style, existing only to elongate the leg in the spirit of a Vargas girl pinup. Which isn't bad, it's just a boring "sexiness" that reminds us of women stumbling through the meatpacking on a Saturday night. Despite that, there are some fantastic options out there that do away with spikes in favor of a solid, retro, or even an arched or trumpeted, bombé heel. Done right, those thicker platforms are the ultimate fashion shoe — feminine, with a clear sense of empowerment. Like so: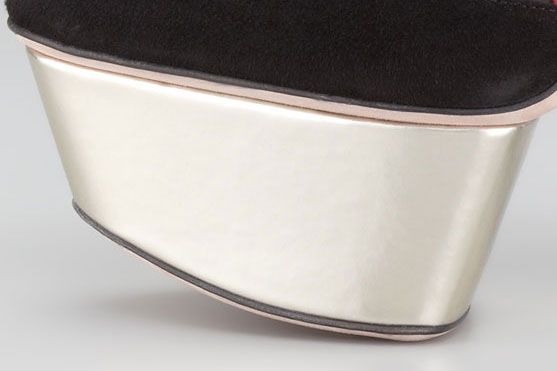 The Platform
That enlarged sole of the shoe serves as a pillow for the ball of your feet. Ideally, it should be no higher than one and a half inches. Exceed that, and it begins to look like a caricature of a shoe.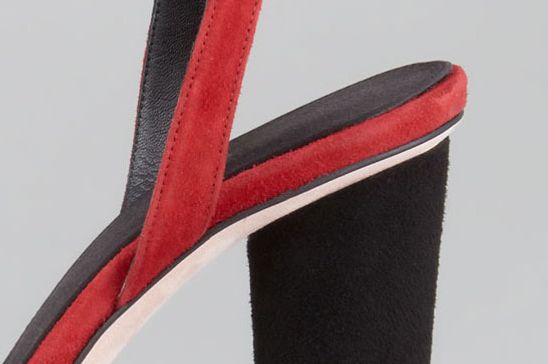 The Heel
Go for something substantial, at least as fat as a Sharpie's circumference. In addition to giving the shoe a vintage feel, a solid heel also creates a more natural stride and makes wearing high heels a cake walk.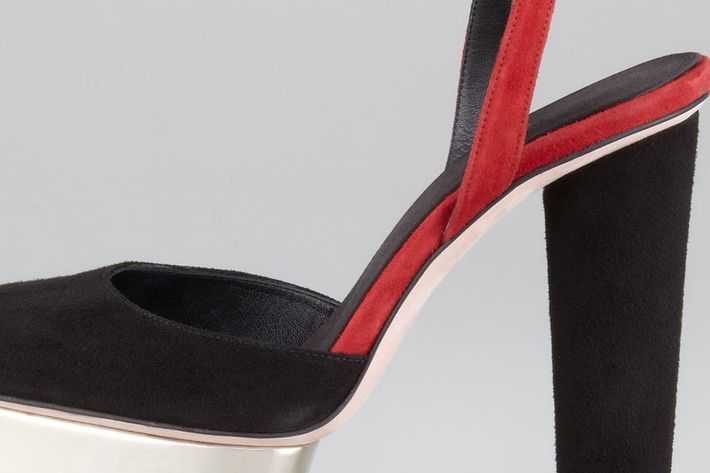 The Pitch
This is the angle in which the shoe bed falls. A pitch that's too steep results in a shoe made for Jessica Rabbit, and orthopedics later on. Less arch means more comfort. Ideally, once you subtract the platform from the heel height, the pitch compares to wearing a one-and-a-half to three-and-a-half-incher, which looks attractive but not hobbling.
We advise keeping all other embellishments to a minimum (these shoes are already a strong look). A classic, thin strap around the ankle always looks good, plus it makes the shoe easier to walk in. Prada and Miu Miu constantly reinvent the shape of their platform. Michael Kors has some decent suede ones. Rochas has been experimenting with a nice classic wedge shape, and Giambattista Valli put out a terrific disco version for fall 2012. Some seasons, you simply won't find that one excellent platform, like the one pictured above from Miu Miu's spring 2009 collection. Other seasons might have a glut of them. So when you find some you like, buy them up, as they never really go out of style. And should you feel inspired, we've compiled a slideshow of some of our favorite platforms available right now in stores.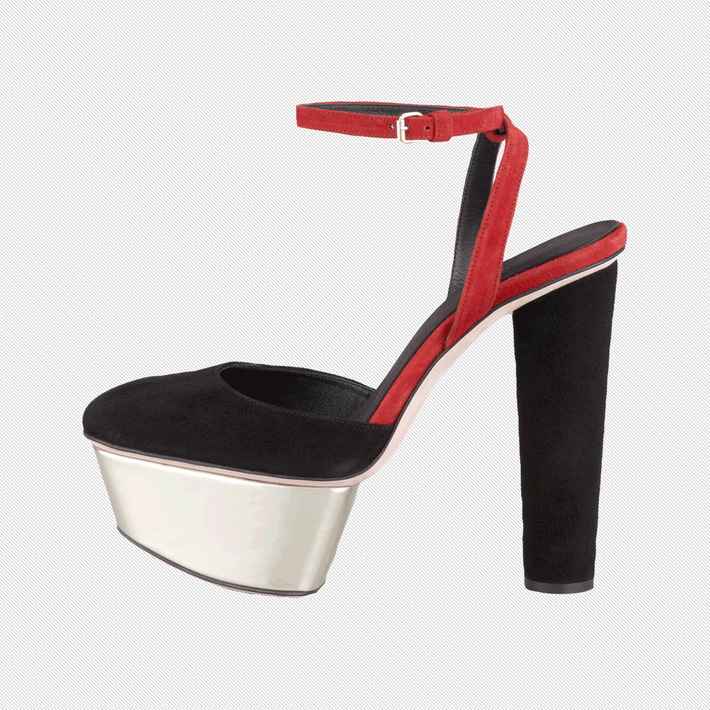 Giambattista Valli Suede & Patent Leather Platform Shoes, $697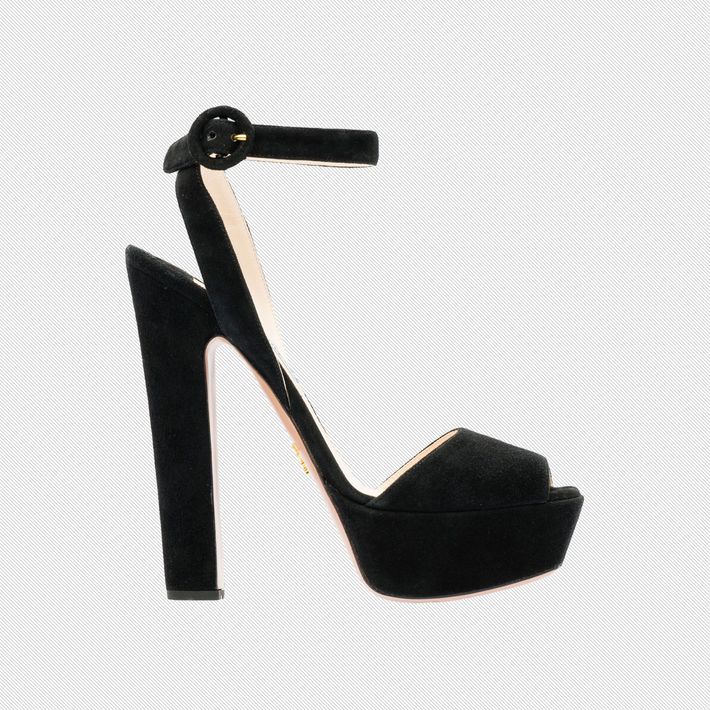 Prada Suede Platform Heels, $553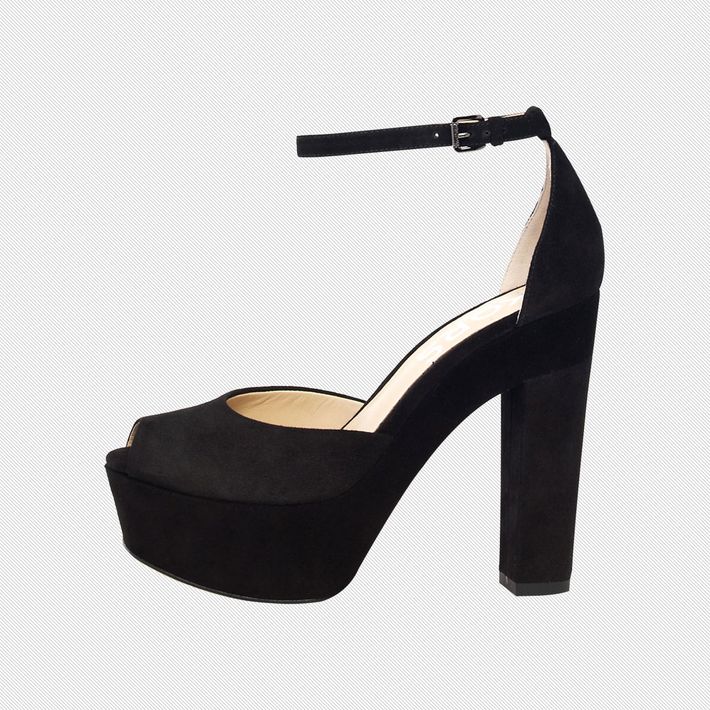 Michael Kors Hannon Suede Platform, $295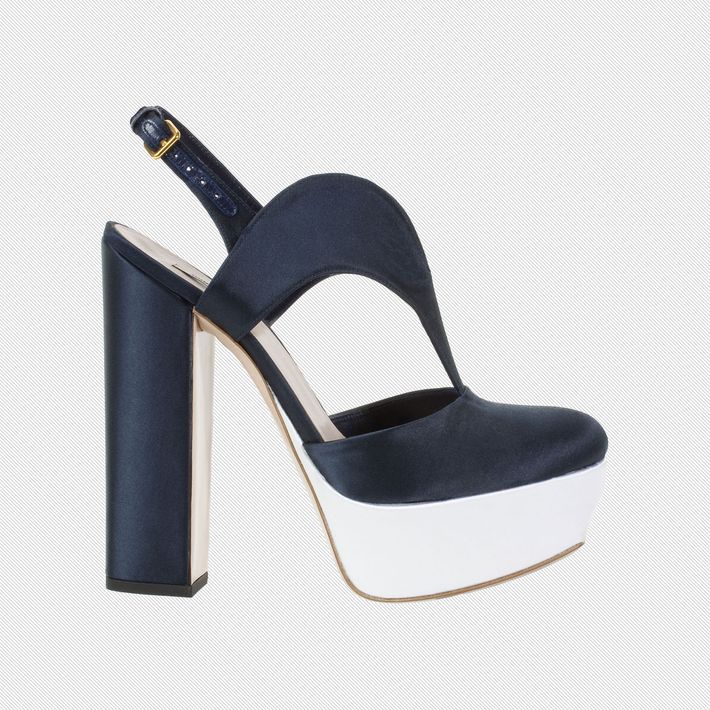 Miu Miu Spring 2009 Satin Shoe