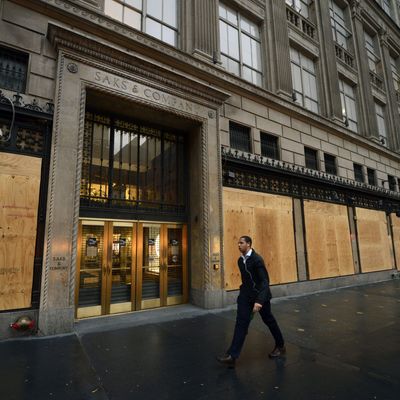 Saks boarded up after the storm.
Photo: TIMOTHY A. CLARY/AFP/Getty Images
It's no surprise that when millions of people were deprived of power and gas for days, if not weeks, they did not shop. However, Hurricane Sandy's overall effect on November retail figures was relatively minimal: Gap, Limited Brands, Victoria's Secret, and Bath & Body works all reported slight increases in sales for the month, although numbers still weren't as good as they'd projected pre-hurricane. Meanwhile, Macy's CEO Terry Lundgren attributed their .7 percent decline to the storm, telling WWD, "Despite the largest-volume Thanksgiving weekend in our company's history, we were not able to overcome the weak start to the month, which included the disruption of Hurricane Sandy." So, just as expected, there was some impact, but it wasn't crippling.
Related: 
New Yorkers Aren't Stress-Shopping Online This Week
No One Shopped During Hurricane Sandy, Obviously