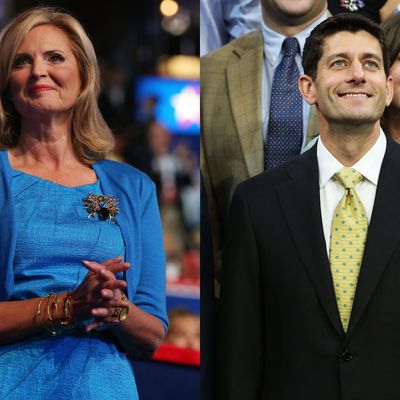 Photo: Chip Somodevilla/2012 Getty Images
Emily Heser is a 31-year-old hairstylist at Manhattan's Cutler salon. Through a friend, she landed a one-time gig doing hairstyling for the Romney and Ryan families at the Republican National Convention. They liked her work. So much, in fact, that if the Romneys win the election, the Bushwick-based liberal will work in D.C. part-time as "backup stylist" to possible first lady Ann Romney.
I got the job through a girl that used to work here at Cutler Salon in New York City, Christie Somers. She already knew the Romneys. She's from Salt Lake City; I think she went to Brigham Young with some of the Romney sons. She travels with them and has been doing their hair color, but when they have something big, like the Republican National Convention, they need more than one person. If he gets elected, I'll be going back and forth to D.C.
Ann is the nicest woman ever. She was just like, "Oh, do whatever." She just wants her hair to look really big and full. You generally need to get the hair to be twice the size you would normally want it to be when you're on-camera. Ann actually got a haircut that was a little too short a week or two ago, so I had to make a whole set of clip-in extensions for her. She wants me to come do her hair for the inauguration. I was like, That's not going to happen, because they are not getting in.

I was vetted. I had to get background checks, and I had to get many credentials that changed each day. There was a lot of Secret Service. I was expecting there to be more direction from everybody. It's a free-for-all. There's no one directing the image. She doesn't have a clothing stylist or anything. Neither of the Romneys do. The girl that does the hair and makeup for them will be like, "Okay, good choice. Not so good choice."

I also cut Paul Ryan's hair. I just trimmed it up. I didn't want to freak him out too much. He was like, "I go to the same barber every day!" I didn't want to give him a total makeover. He has pretty intense hair — really thick and lots of cowlicks — and I didn't want it to look so different from what he usually looks like. You don't want people to be focusing on the fact that the guy just got his hair cut. I was scared shitless. I really wanted to talk to him and ask him questions, but it's not professional. I don't usually talk to higher-profile people when I am doing their hair. If they want to talk to me, I will talk back. He was probably like, I can tell that this girl is a liberal; she's probably gonna slit my throat. I had a straight razor blade on this man's neck!
He's really nice, though. They're all super-nice people. I don't think it would be such a bad thing to spend time with them; I just don't agree with their politics.

Mitt Romney and Paul Ryan style their own hair. We give them the product we think they should use, and then they do it themselves. I confiscated Paul Ryan's pomade. I told him his hair was too shiny. We gave Mitt and Paul this stuff called Fat Boy Perfect Putty.

I actually think Mitt Romney doesn't spray-tan. I doubt that he would have time for that. Maybe he uses self-tanner? Their whole family is really tan. They're all tan, blond-haired, blue-eyed people. There was not an ugly person in their family.

After the convention, my friend said, "I know this is weird and presumptuous, but assuming that I'd still have a job after the election, would you like to be my backup person?" People who need to be on-camera all the time often have one or two backup stylists. I've been second stylist for three or four years, to people like Rachel Ray, third stylist to Susan Sarandon. So I said yes. Once I got over being sad, it would be such a good opportunity. I can't say no.

As told to Kat Stoeffel and Katie Van Syckle.