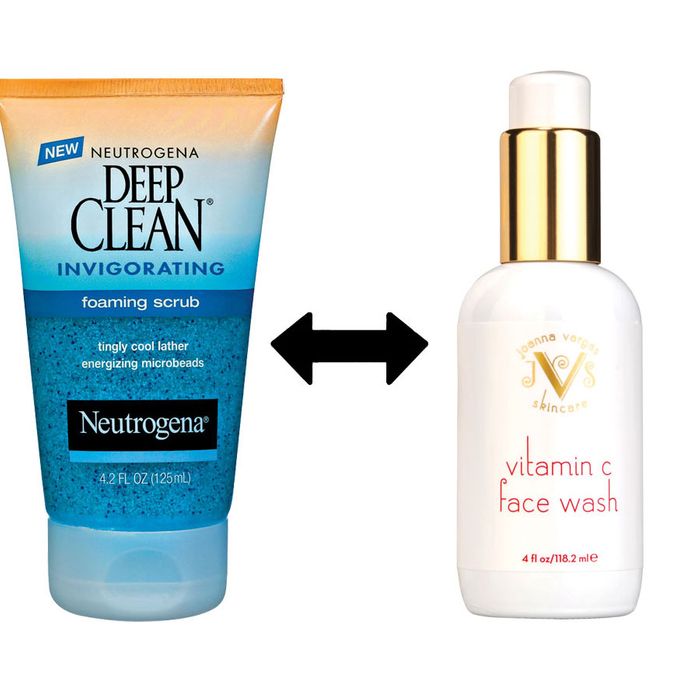 Skin care is my thing. My entire makeup regimen consists of blush, a few swipes of mascara, and a brow pencil, but when it comes to taking care of my complexion, it's an intense, multistep process. Meanwhile, my fiancé, Ben, who moved into my apartment five months ago, basically brushes his teeth and goes to bed.
Each night while I cleanse, pat-dry, add serum, moisturize, and finish with an eye cream, there's Ben on the couch watching television. He doesn't wash New York City's grime out of his pores nightly, breaking every dermatologist's mandate. Despite that, his skin is usually, frustratingly, blemish-free. Maybe he's onto something? Maybe washing your face in the shower using Neutrogena's gel really is the solution?
For five days, Ben and I swapped skin-care routines. It sounds silly, but it was much more difficult than I expected — for both of us. Especially since only one of us ended up with a huge zit. To find out who, read on for daily thoughts from each day of the experiment.
Day One
Christina: I carefully walk him through which bottles to use at night and which to use in the morning because I have different moisturizers for night and day. I also don't cleanse my face with soap in the morning, just a splash of warm water. He is already griping about the fact that there are two different face creams. Plus, all of the bottles and tubs are white, which can only lead to confusion. As I leave him in the bathroom to start his new routine, I am already so jealous that he gets to wash his face while I'm left to drift into sleep thinking about my slowly clogging pores.
Ben: This routine takes too much time. I don't understand the need to put on both a night cream and an eye cream; it just felt like I was doubling up, but I liked the smell of the cleanser. Citrus smells clean. The ointment [Editor's note: He means antioxidant serum] is slimy and a little sticky. Though I hate washing my face in the sink, it does provide a nice end to the day.

Day Two
Christina: As excited as I was to finally be able to wash my face in the morning, I forget to use his neon-blue goo. I get out of the shower with my face feeling even dirtier. His moisturizer is so strongly dude-scented, and it makes me feel like I'm just wiping deodorant all over my face. Since I got out of the shower, face uncleansed and still kind of gross, I decide to forgo makeup, lest it clogs my pores even more. I spend the rest of the morning making people smell my face in the office so they can feel the nostril assault I'm going through. Later that night, Ben almost rubs hair oil all over his face instead of the serum. The bottles look nothing alike except for being the same size.
Ben: I'm pretty sure these moisturizers aren't formulated to work with shaving. My neck feels irritated, but my skin does feel well moisturized. I can't stop thinking about the initial scenes of American Psycho as I go through the routine. "And on the face, an exfoliating gel scrub. Then I apply an herb-mint facial mask, which I leave on for ten minutes while I prepare the rest of my routine. I always use an aftershave lotion with little or no alcohol, because alcohol dries your face out and makes you look older. Then moisturizer, then an anti-aging eye balm, followed by a final moisturizing protective lotion." I decide not to do 1,000 crunches.
Day Three
Christina: I remembered to use his cleanser. As someone with really dry skin, I already know that the "zesty" exfoliating beads in it will just ruin my skin. I like the sinus-clearing menthol scent, though. But that's it. In the shower, I think about how impressed I am that Ben is keeping up with his routine. Even after a late night out, I hear him tinkering with the products in the bathroom. So that's what I sound like each night! The sound is sort of annoying, particularly with the constant opening and closing of our squeaky medicine cabinet. Even though it's nice to just collapse into bed without going through the five-minute wash-cleanse-moisturize routine, I lie there with my unwashed face and wonder how many zits I'll have by the end of the week.
Ben: I miss my face scrub. It has micro-beads that feel like mild sandpaper. I always feel like I'm getting a deep clean. Her daily cleanser doesn't give me that same feeling. I'm really starting to like the eye cream, though.
Day Four
Christina: Despite my face smelling like deodorant all day long, it's kind of comforting to smell like Ben during the workday. However, getting close and kissing him and smelling the familiar scent of my beloved moisturizer is a whole other moment. It's like making out with yourself, but not? Oh, it's exfoliating day for him, and I am pretty surprised that Ben remembered to add this into the nightly routine all on his own.
Ben: I've hit the low point of this little experiment. After having a few too many cocktails, there is nothing worse than a multistep skin-care regimen. I wish there were an exfoliating pillow that I could have just face-planted into.
Day Five
Christina: I'm pretty surprised to see that my skin held up as well as it did, despite stripping it each morning with his scrub. As nice as it was to have the most simple nightly routine I'll ever know, I'm glad it's all over. I especially can't wait to have my serum back in my life, because it truly makes my skin glow.
Ben: I think my current men's facial moisturizer is too aromatic, so I'm going to consider a switch. Christina's smelled better. Eye cream is probably going to be added to the daily routine, since I've now learned the under-eye area tends to dry out more, plus it just feels nice.  
Epilogue
Christina: It's now day seven, two days after the swap is over, and I have the most massive zit erupting in the center of my forehead. I haven't experienced a growth like this since my teens. I blame it all on Ben's products, obviously.
Ben: I still haven't bought eye cream.