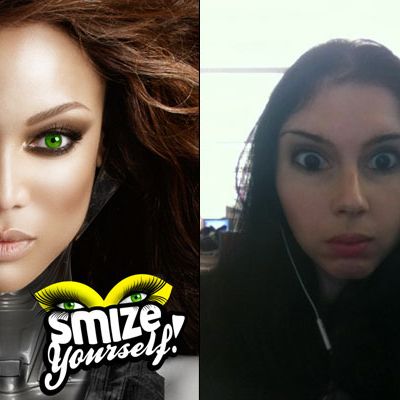 Photo: Courtesy of Hilary Moss
"So, you've come here for a Smize lesson, also known as the Art of the Smize, and there are three steps," Tyra Banks told me in a video, part of her newly released iPhone app, Smize Yourself! If you, too, pay $1.99, Tyra can teach you to "find good lighting" and — with a "dead mouth" — "squint your eyes, and bore your soul into your eyes, into that lens, and you snap that camera. There you go — that's how you Smize!" I instantly became one of those real-life anime girls that I've read so much about, with the magic of Tyra's face-distorting app.
My first attempt (above, right) took place at my desk. I had to "line up [my] face within the outline and Smize directly into the camera," but instead of squinting, my eyes opened wide because Tyra was screaming at me! Things like, "Honey, you look fierce!" "Serve me some fierceness!" "Ooooh, you are fierce!" and, "TyTy's proud of you!" She continued to yell at me even after I closed the app and set off in search of a better light source — ending up in Daily Intel's section of the office.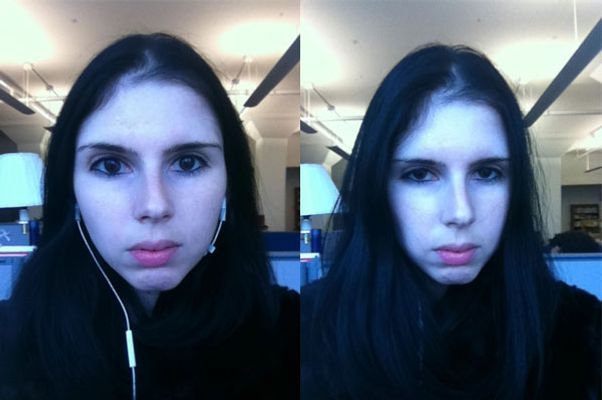 On the left: how this app is meant to be used. At right: a photo I took from my MySpace angle, which apparently canceled out my anime-girl dreams. I look un-Smize-y and boring.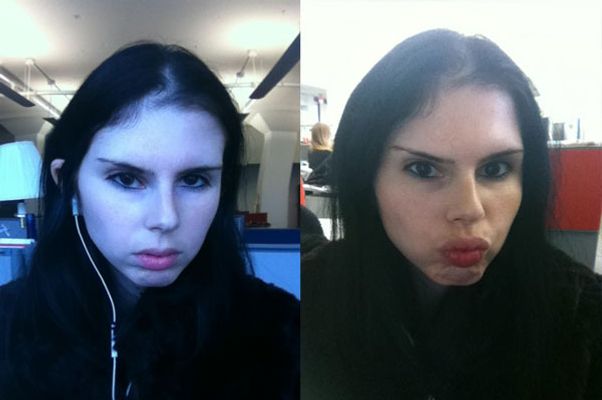 Anyway, after you take your picture (and before it starts "cooking"), there are tiny buttons over each of your pupils and on both sides of your lips that you can move around, but I didn't touch them until the photo at left. And at that time, Intel Joe noticed my presence, asked me what I was doing, and in lieu of explaining, I ran back to my desk, abandoned all of the Smize rules I'd just learned, and took one last photo. This is likely as fun as the app gets, though Tyra recommends it for sexting.
There's also an option to share your hot pics on Facebook, Twitter, Instagram, etc. But I wouldn't want anyone to ever see these, except for you, dear readers.