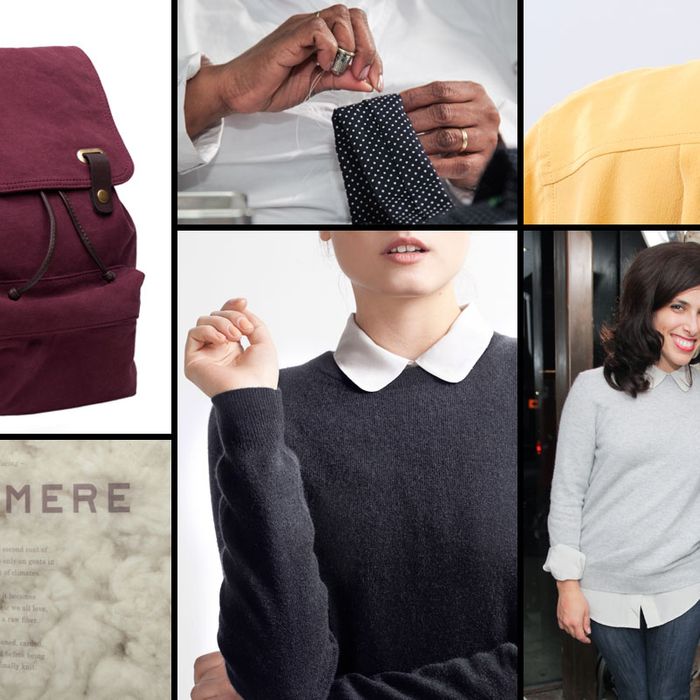 What do you call an online clothing brand with the moral compass of a Buddhist monk? Everlane. The store, if you can even call it that, is barely a year old and operates primarily by word of mouth. Since launching last November, the San Francisco–based company has gained a secret following of devoted fans — 500,000 strong — seeking the label's high-quality wardrobe staples including tees ($25), silk blouses ($80), and canvas bags ($35) at prices that would make even a second markdown at J.Crew blush.
This isn't just this decade's Internet-only version of American Apparel, though. Everlane designs garments that look and feel luxurious, then prices them just above cost: For instance, that Equipment-esque silk blouse at Barneys only costs $80 on Everlane. "We are trying to dismantle the idea that high price means high quality," says Michael Preysman, the company's 27-year-old co-founder.
After quitting his job at Elevation Partners, a private equity firm, Preysman wanted to start a company he thought could change people's purchasing habits. He spent nearly a year sourcing cashmere from Mongolia and Merino wool from Scotland, and then teamed up with the same factories that produce clothes for luxury brands (he's not naming names) to be sure quality was high. Because Everlane doesn't advertise or own stores, it's able to skip brick-and-mortar costs — distribution, sales people, real estate — keeping prices competitively low.
"When Gilt Groupe came out, it was such an eye-opener for consumers who suddenly were getting 70 percent off designer brands," Preysman says. "It made people question what things actually cost to make." Seasonal markdowns, of course, are baked into any brands' pricing structure; it's that strategy which Everlane hopes most to destroy. When Black Friday rolled around last week, Everlane completely shut down its site for 24 hours as a big F-you to the system. "I don't want to play that game, do you?" Preysman asks, knowing the answer already.
"The fact that Everlane is direct-from-supplier got me interested in the company," said Carl Atiya Swanson, who shops the site in Minneapolis. "I've bought some of their T-shirts but haven't pulled the trigger on anything else yet."
Everlane items never go on sale — one strategy retailers use to get unsure customers to pull that proverbial trigger. And the Internet obviously doesn't have dressing rooms. One way to skirt that problem is by focusing on scarves, backpacks, or the size-free ties and bowties they introduced this week. But as the site has also added real clothing — blouses for women, oxfords for men, sweaters for both, and leather pieces and outerwear next year — they've had to find ways to get new customers trying stuff on.
Returns are easy, if not inherantly annoying, and today, they've opened their second Not-a-Shop, the Workshop, in the meatpacking district (through December 9). It's a place to court fresh eyes and a project in do-gooder transparency: You can watch artisans make conflict-free garments before your eyes, then participate in workshops to customize belts and ties or add elbow patches. But if you want to actually buy the stuff, you have to go online. In the store, Everlane charges a silly brick-and-mortar markup.
"I'm sure you've heard what people call Best Buy: a museum for Amazon.com," jokes Preysman. "Brick-and-mortar as a gallery space makes sense, but it's totally antiquated as a traditional retail space." He's got a point — online shopping is marvelous — even as the stunt-closing on Black Friday, the obsession with minimal basics, and the in-store markup he charges feel a bit gimmicky. Why pay for advertising when marketing gags keep people coming anyway?
His only answer: "I wish sometimes that we were a nonprofit because then people would trust us a little bit more," he says. "It's hard to say that we are anti-consumerism when we sell products, but we are definitely for less consumption." And he finds a way to remedy that issue; Everlane's still doing just fine selling a gorgeous, $120 cashmere crewneck. Just go ahead and resist that.