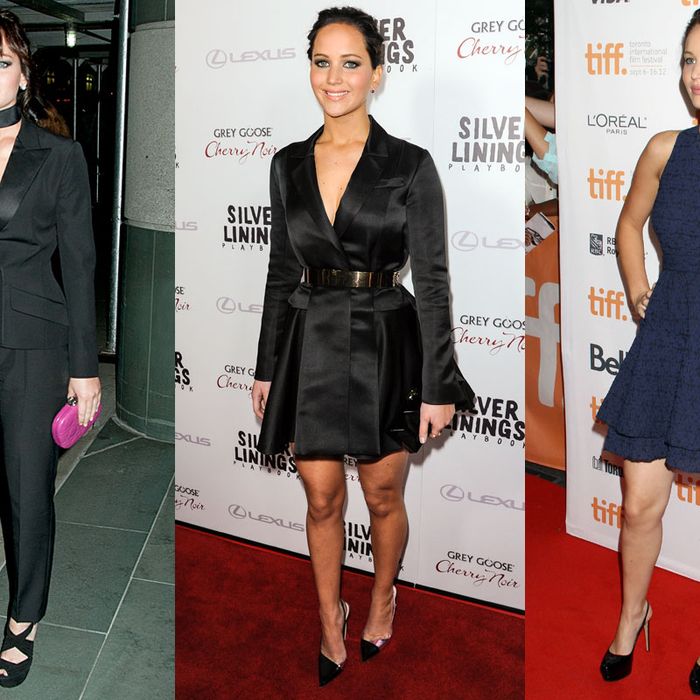 Jennifer Lawrence in Dior.
Photo: Corbis
Since replacing Mila Kunis as the new face of Miss Dior, Jennifer Lawrence has crammed as many free Dior outfits as possible into her red-carpet appearances, including pieces from the resort, couture, and spring 2013 collections. The label surely appreciates her commitment, and after all, it's her job to swan around in their clothes — the house's other faces, Marion Cotillard and Natalie Portman, do the same. But how do we feel about the Dior offerings that Lawrence has worn so far? Unlike Cotillard and Portman, Lawrence makes the outfits look vampy — hardly an adjective that's normally used to describe the house's polished, ladylike aesthetic.
Lawrence has stuck to a dark color palette lately, surely in keeping with her new hair color (she dyed it black for her role in Silver Linings Playbook, which she's currently promoting). And rather than wearing some of Raf Simons's feminine floral dresses, last week she chose a black, low-cut pantsuit from the designer's ready-to-wear debut, complete with the corresponding neck scarf and those shoes that are apparently so uncomfortable that Cotillard had to remove them on a recent red carpet. Last night, Lawrence wore a belted dress from the same collection — a black iteration of the red coat Cotillard wore on W's December cover. 
It's cool to see an actress commit to a very particular look, but we can't be the only ones wishing she'd take one of Dior's shorts-and-hot-pink-tunic combos out for spin. Perhaps it's a hair-color thing, and once she returns to blonde, she'll give the black eye makeup a rest and go back to florals. Anyway, do you like Lawrence's Gothed-up Dior, or are you wishing she'd dress more like this?