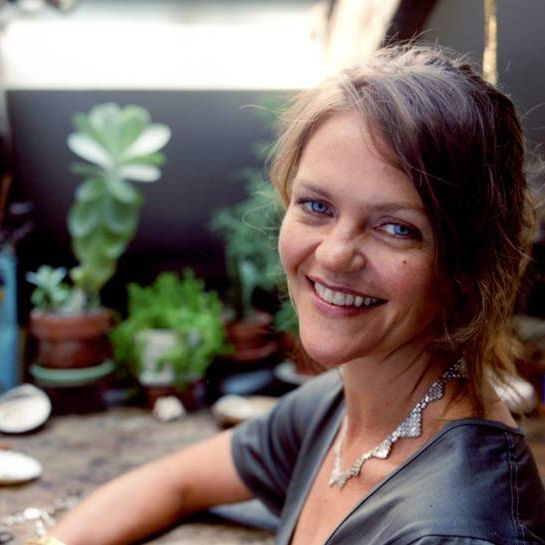 Photo: Courtesy of Jill Platner
Jill Platner has been in the jewelry business for twenty years, designing wearable metallic sculptures for clients like Arizona Muse, Lenny Kravitz, and Cindy Sherman. In 1992, after studying jewelry design at Parsons, she sold Barneys her thesis collection, and just last month, she mounted an exhibition of actual sculptures in Chelsea, the culmination of her decades-long career. "I could only do [a sculpture] every five years just because it's such a big commitment of time and everything," she explained, although two years ago she started seriously preparing for this installation. The large-scale pieces are made with bronze, copper, plus materials from boats, which are are welded, casted, and forged together until they're up to 30 feet in length and weigh up to 1,000 pounds.
Platner believes her designs should be "weatherproof and waterproof," which proved fortunate last week when Hurricane Sandy blew through and even the outdoor one survived fine. The natural element is what makes the medium a fun, and new, challenge for her. "I'm going to be, like, 90 years old and making stuff," she told the Cut. With sculpture, "I don't have to worry about market or costing out a piece [for retail]." Read more from our interview with the designer below, and see her sculptures, on extended display through November at New York's Artisanal House, in our slideshow.
Did you always want to work in sculpture?
"From the very get-go. It's nonrestrictive for me. The jewelry is also, but there's a lot of things you also have to follow in order to meet certain price points and be on time in the market."

How is your sculpture-design process different from the jewelry?
"The scale is so much larger. It involves more people, more hands, more tools. Whereas jewelry I can do in my own studio, and I don't need help. There's a lot of engineering that goes into the larger pieces. I have a piece called Songbird, that has 500 pounds of steel plate in the ground anchoring it down!"

Still, they share similar aesthetics.
"It's amazing; the jewelry is small-scale models. There are so many pieces that I've made small that I just — I don't even want to show it as a piece of jewelry because I'm like, This is going to be big, so forget it. It's an amazing way to work out shape and form with smaller pieces for sure."

How long does it take you to make a piece?
"The Songbird and Waterfield I did together, and it took around four months of solid working on both of them. With a crew, too."

What is the significance of the names of your sculptures? How do you come up with them?
"It's sort of a feeling. There's a piece I originally made maybe fifteen years ago on a smaller scale, it wasn't even jewelry, but it had some kind of feeling of my grandmother's garden, and she had a lot of poppies. So I called it Poppies."

Would you say nature is your greatest inspiration?
"Yeah, definitely. Since I was a kid, I've just collected little things like shells and seeds, and it's just perfection just walking around a forest or a beach. The forms are so incredible and natural. The way they're organized, it just always astounds me, the way things are naturally put together."

And yet you live in New York.
"I know, isn't that crazy? But I'm also inspired by urban landscapes and the shapes and forms that I come across on a sidewalk or in a building. You know, metal is very city or industry-based. I love old, industrial parts and places and the way things were made hundreds of years ago. Nature's just where I started."

How did you decide to work in metal?
"It was an early discovery when I started studying at Parsons. The second I touched metal, it was absolutely no question, no doubt, the path of my life. Something about working with a hard material that you could change and make it soft. It's a miracle to me."

You've had a long career already. Can you speak to your creative longevity?
"It's an infinite pool of ideas and things that I want to make. It's about constantly pushing it, too. I'm sure so many artists have experienced a 'What am I going to do next?' or a block, and the process is pushing through that and opening up to something else and then you discover something and then 'Waaaaah?!' You know, it blows my mind all over again."

What do you think has changed in the industry from when you started?
"I think when I started, there weren't that many jewelers. There were a few people that are still my peers, and it was a core group of us, like Ten Thousand Things, Me&Ro, Lisa Jenks. Ted Muehling was kind of the grandfather of us all. And now there's just so many people that make jewelry. Clothing companies now have jewelry and accessories. I know that processes have changed, and it's easy for anyone to make something if they want to, in the sense of what's available in computers and programs. Technology has changed so much, so it's very easy for someone who doesn't know anything about metal to be like, 'Hey, can you make this for me? This is what I want, can you do it?' and somebody else actually does the work and the construction."

Is that frustrating at all?
"No, it's not frustrating. I just do it a different way. I could just never hand someone a design and be like, 'Can you make this?'"

You've had a fair amount of celebrity clients. Do you remember the first celebrity that wore your jewelry?
"I think it was Jackie Chan! He was totally obsessed with my jewelry. I used to go up to their hotel room with a bag of jewels when I first started. His stylist had one of my pieces, and she called me up one day."

Lenny Kravitz also wears your jewelry — why do you think it's so appealing to males?
"I guess rock-star guys, musician guys, they can pull off anything because they already wear more flamboyant things. But, it's really random, the guys that wear it. My friend is a public defender in California, and he wears his necklace and bracelet all the time. It's his thing that's underneath his suit, so it's like his own identification. Wall Street dudes wear stuff, too, like a really simple bracelet or a belt. I make really simple silver belt buckles. I sent one to our president last time he got elected."

Really? Have you seen him wearing it?
"I haven't, but I'm also not looking at his crotch!"