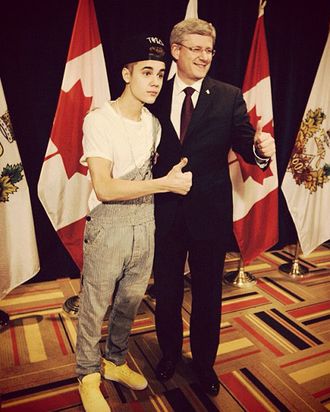 Photo: Justin Bieber/Instagram
While you fat Americans got fatter, it was Important Business As Usual for Canada last week, where Justin Bieber was awarded the Diamond Jubilee Medal while clad in his finest OshKosh B'Gosh. For his efforts, Gawker called him a "White Trash Prince," adding, "His smile is practically screaming, 'I'm trolling you so hard right now and there's nothing you can do about it.'" Bieber wasn't having any of that, either. From Us Weekly:
"The pic of me and the Prime Minister was taken in a room in the arena where i was performing at that day," wrote Selena Gomez's on-again, off-again beau. "I walked straight from my meet and greet to him, if you … expect me to have a change of clothes let a loan [sic] a suit at that specific time that's crazy, It wasn't like it was like I was going into his environment we were at a hockey arena. Wow am i ever white trash."  
Then Justin posted a photo of himself to Instagram — shirtless, with his overalls down, revealing his boxer briefs. Is he ever white trash!