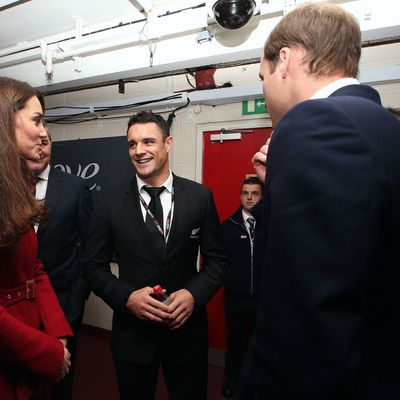 Kate Middleton, covering her tummy.
Photo: Hannah Johnston/Getty Images
While we Americans spent the weekend recovering from turkey comas, the Brits carried on with their usual business, like watching rugby and/or watching Kate Middleton watch rugby. She and Will attended the Autumn International match between Wales and New Zealand on Saturday, where they were given a bouquet of flowers and introduced to this studly fellow named Daniel Carter. Naturally, the royal couple was rooting for Wales, so they both wore red — Kate repeated this LK Bennett coat, and Will sneaked some color into his tie. 
Although Kate's still showing no signs of her purported pregnancy (although the countdown to her rumored announcement is ticking!), her bouquet and clutch purse both conveniently served as belly cover-ups, and there are no full-length photos of her from the event. Not even doing the wave in the stands! There is, however, this adorable picture of her giggling with former rugby players before the match — bending over and covering her tummy, that tease.
Related:
Slideshow: Witness Kate Middleton's Emotional Roller Coaster at the Olympics
Kate Middleton Really Pregnant This Time, Says Former Roommate