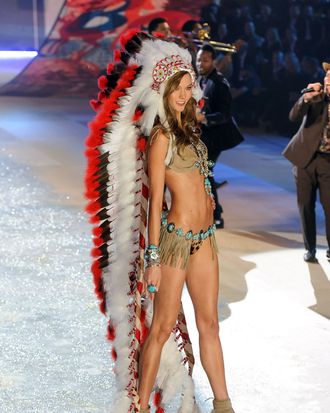 Never to be seen on TV.
Photo: Mario Santoro/Corbis
When Karlie Kloss appeared on the runway in a Native American–inspired headdress, fringed leather bra and panties, and high-heeled moccasins at the Victoria's Secret Fashion Show last Wednesday, there was a collective "really?" from the audience. (The outfit was apparently meant to reference the harvest season, as the word "Thanksgiving" flashed across the screen behind the catwalk.) It was a perplexing move for a brand that's usually so hyper-controlling of its own image.
The backlash was both predictable and immediate. Native Appropriations, a website committed to "documenting images of American Indian, Alaska Native, and Native Hawaiian people, language, and culture in everyday life: countering stereotypes one cigar store Indian at a time," wrote:
Besides the daily harm of these ongoing microaggressions for Native folks, the sexualization of Native women continues to be an ignored and continuing epidemic.
The site also posted this graphic with statistics on the number of native women raped each year by non-native men. Meanwhile, other outlets — including this one — wagged their fingers. Finally, Victoria's Secret issued the following apology statement on Saturday:
We are sorry that the Native American headdress replica used in our recent fashion show has upset individuals. We sincerely apologize as we absolutely had no intention to offend anyone. Out of respect, we will not be including the outfit in any broadcast, marketing materials nor in any other way.
Yesterday, Karlie Kloss tweeted her own apology: "I am deeply sorry if what I wore during the VS Show offended anyone. I support VS's decision to remove the outfit from the broadcast."
Okay, but really, what were they thinking? After the countless design meetings, fittings, rehearsals, and everything else that goes into this massive production, no one noticed that this costume was a preposterous idea? 
Related: Sexy, Awkward Tales From the Victoria's Secret Fashion Show Circus