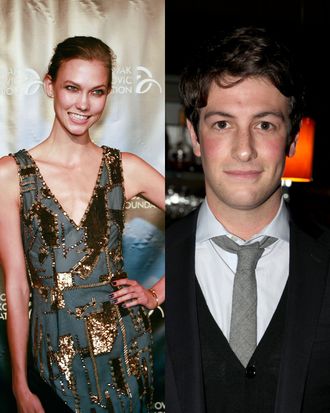 Karlie Kloss and Joshua Kushner.
Photo: Amber De Vos/Patrick McMullan
The press has feverishly attached Karlie Kloss to everyone from Joe Jonas to Eddie Redmayne to Sam Bradford, all to no avail. But her latest rumored paramour sounds promising: Us Weekly reports that Kloss attended the Victoria's Secret Fashion Show after-party — hardly a place to be discreet, obviously — with 27-year-old financier Joshua Kushner. Us's source notes Kushner "seemed nervous and shy around everyone but handled it well. Karlie is stunning and the sweetest girl ever. She stuck close to him." Also: "They are really cute together."
Victoria's Secret reps wouldn't comment on the relationship, but if it is true, then Karlie's setting herself up for a legitimate Trump connection: Kushner's older brother, Jared, is married to Ivanka, Donald's oldest daughter (the couple welcomed their first child last year). Allow us to get ahead of ourselves for a minute and picture that wedding! And Karlie could walk in Ivanka's next fashion show! The possibilities are endless, really. In related news, Joshua's pretty cute.