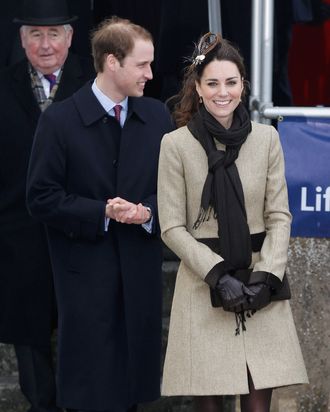 Kate and Will, not at the movies.
Photo: Christopher Furlong/ Getty Images
Kate and Will were so utterly, mind-numbingly normal at the movies on Saturday that apparently their fellow theatergoers didn't think to document their presence. The couple went to see Skyfall, the new James Bond movie, at the local Cineworld in Llandudno, Wales, where they bought soda and popcorn just like us common folk, reports Us Weekly. (Seriously, no one even thought to check whether they went with Coke or Pepsi? And Brits are supposed to excel at this kind of celebrity stalking.) Perhaps most novel of all, Kate wore her hair wavy and natural instead of blown-out; since there are no pictures, we'll just have to visualize her looking like this, minus the flower crown.
Us Weekly's source says that the couple didn't appear to have a bodyguard with them, adding, "It was just a simple weekend date night for them. It's nice to see they do such normal things." Kate probably even smuggled in extra snacks from home, kicked the seat in front of her, and got a loud phone call during one of the movie's sexy parts. Kidding — she'd never be that normal.
Related: In Celebration of Kate Middleton's Dance Moves