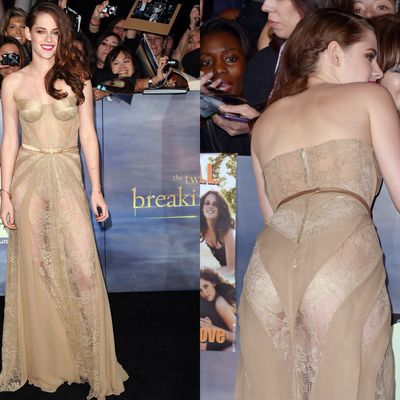 Photo: Jason Merritt/Getty Images, JOE KLAMAR/AFP/Getty Images
Kristen Stewart attended last night's premiere of Breaking Dawn - Part 2 in L.A. wearing a sheer, lacy, floor-length gown by Zuhair Murad, a designer beloved by the likes of Blake Lively and Jennifer Lopez. This is an impressive departure from KStew's usual half-Goth, half-I-don't-give-a-shit red-carpet ensembles. Zoom in on the lead shot, taking in her full look and her almost full-on exposed undies, before we move on to her love-token necklace.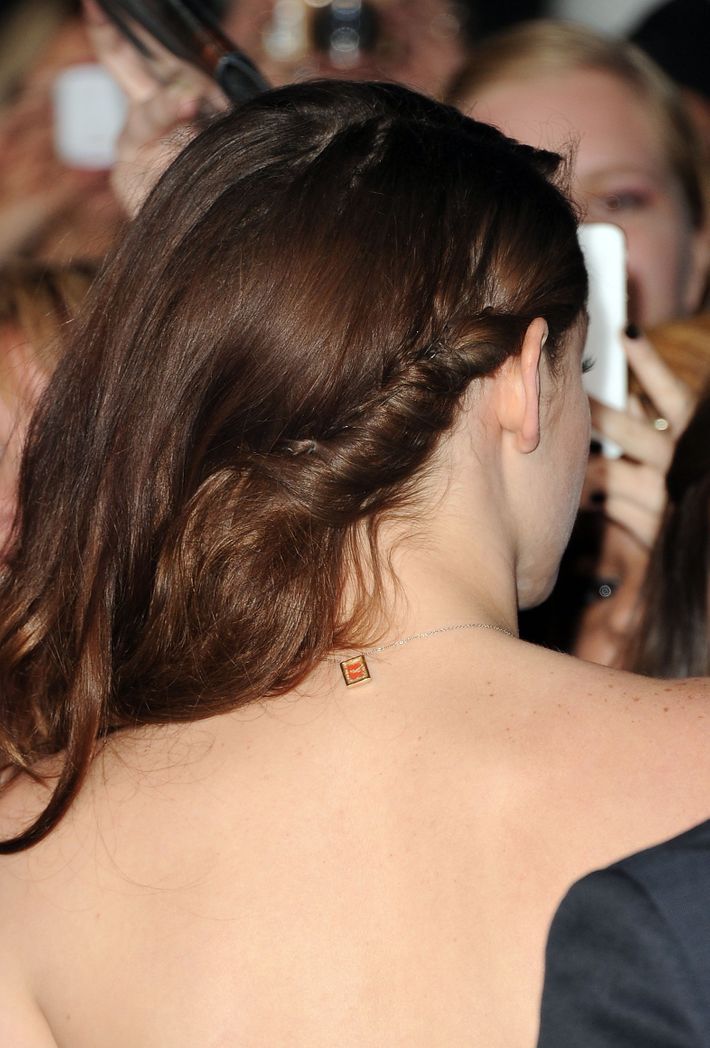 Since her love scandal, Kristen has worn this necklace — a purported love token from Robert Pattinson — in every single public appearance, supposedly to prove her undying affection. More recently, she's worn it tucked into the front of her dresses. One would assume that the red locket itself was hidden down there, perhaps somehow affixed to her clavicle so that it wouldn't come loose and clash with her outfit's color scheme, but here we can see that the charm is actually at the nape of her neck, where the necklace's clasp would normally rest. Meanwhile, her hair is carefully styled to the side, exposing that area.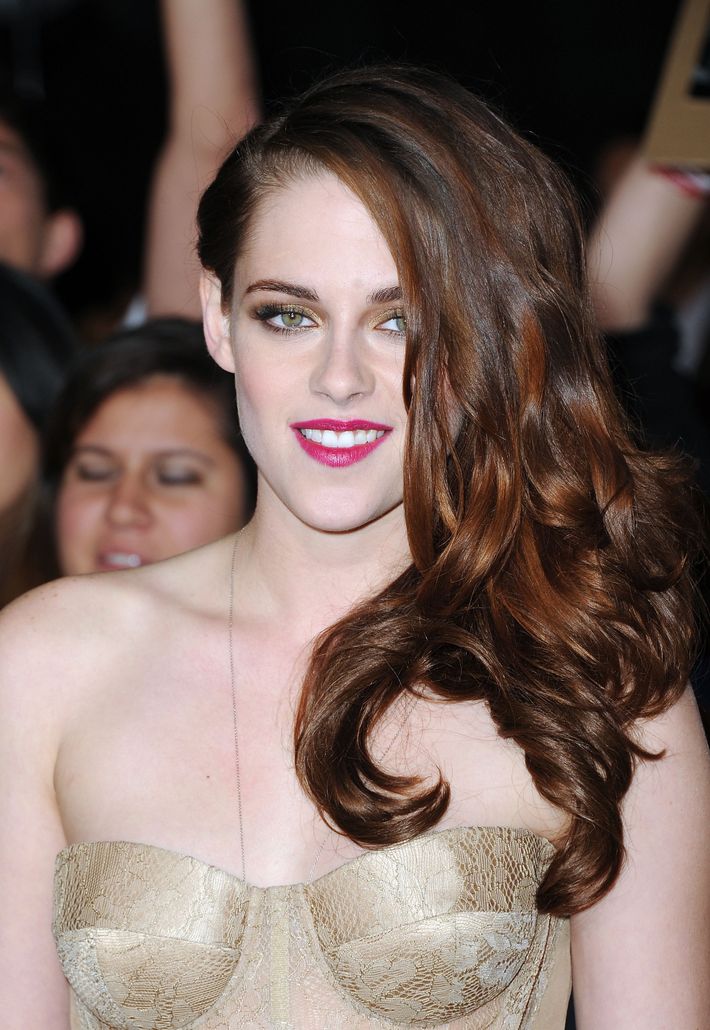 But this raises the question: How is the front part of her necklace staying weighted down like that? Double-sided tape?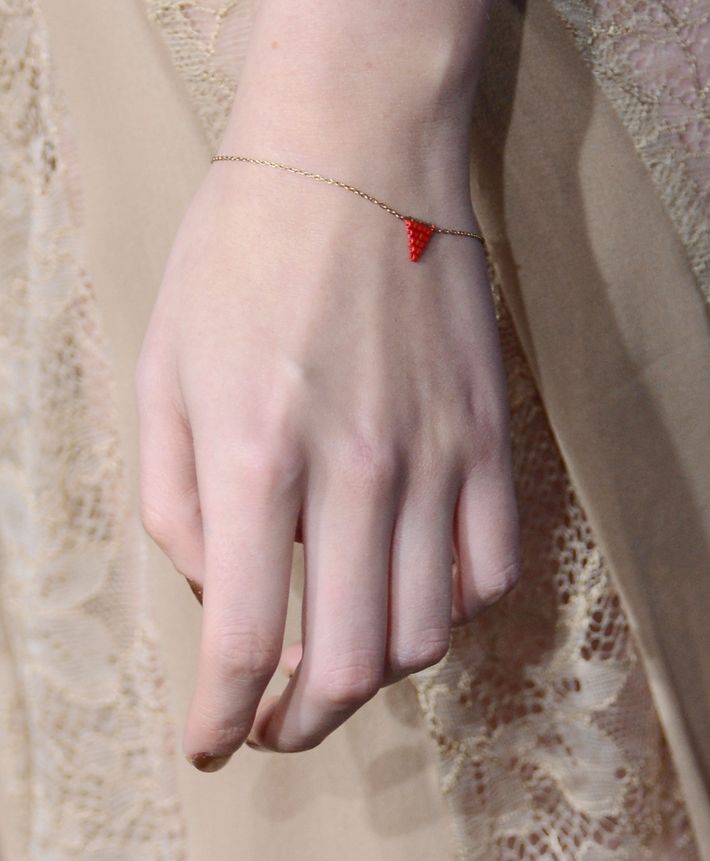 Speaking of jewelry, she also wore this delicate red triangle bracelet, which seems vaginal.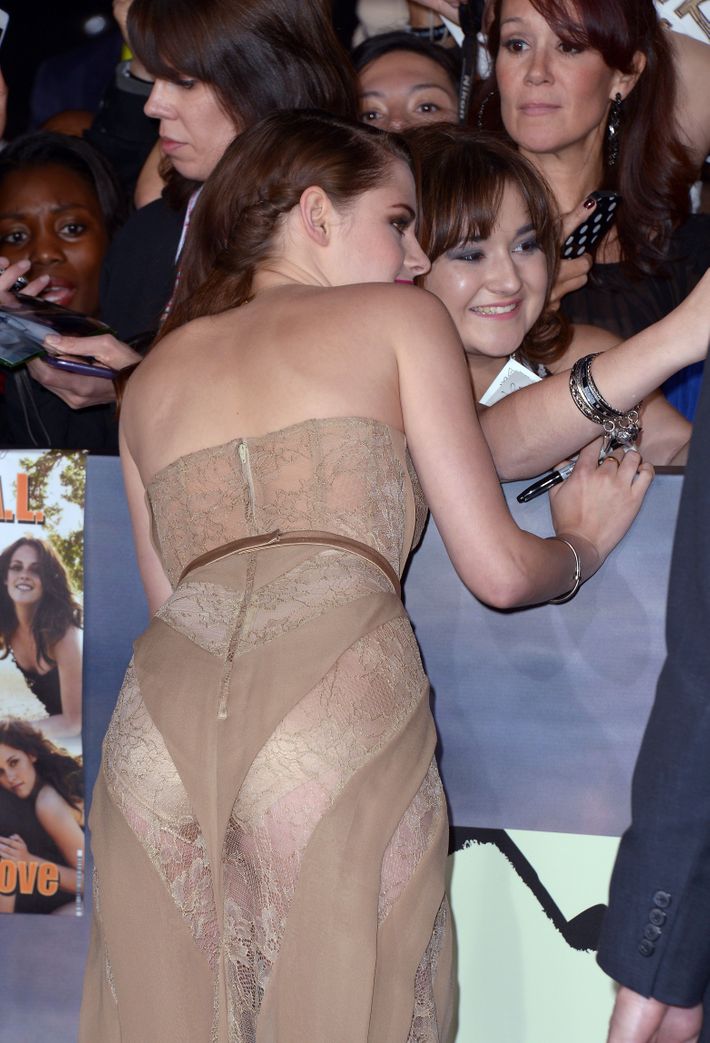 KStew is no stranger to sheer looks — exhibit A: this getup from the Snow White premiere — but this outfit goes to a whole new level, revealing her bottom in flesh-colored panties. She doesn't have much of a bottom, so it's nowhere near as scandalous-looking as it could be for someone with more cheek to bare. Plus, the panty part — which, from a logistical standpoint, looks to be attached to the dress's waistband — is pretty conservative. The skirt's opaque paneling makes for an intricate hide-and-seek effect, which also effectively hides her shoes. (Perhaps she was wearing these.)