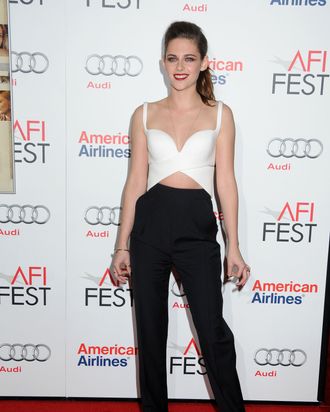 Kristen Stewart in Balenciaga.
Photo: Byron Purvis/AdMedia/Corbis
News broke this morning that designer Nicolas Ghesquière is parting ways with Balenciaga. Just yesterday, photos of Kristen Stewart in one of his latest creations circulated around the Internet. Now Stewart's bra-top ensemble will go down in history as the last time a Ghesquière design was worn on a red carpet while he was still at the helm of the fashion house. Straight from the spring 2013 runway show, the outfit featured less exciting pants than Stewart has worn in the past; it did, however, involve an interesting white top with molded cups that showed a slice of her upper stomach.
Ghesquière was instrumental in tapping Stewart as a face of the label last year. Indeed, she credited him as the reason she signed on, saying at the time, "I would have done anything with [him] … I want to be around Nicolas when he gets excited about fabric. I want to see the look on his face when he sees me put on a dress." While his departure probably won't affect her contract in the immediate future, it'll be interesting to see how her relationship with the label will bear out after he leaves on November 30.