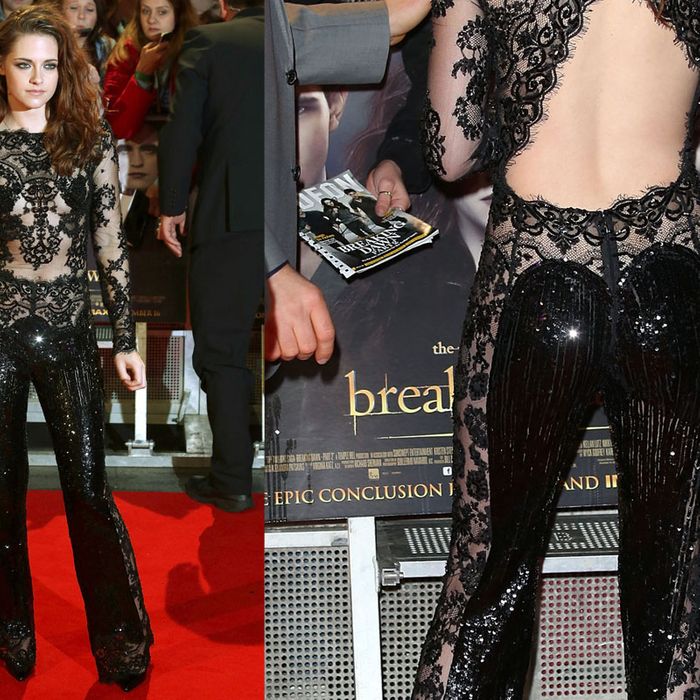 Kristen Stewart.
Photo: Tim Whitby/Getty Images
Kristen Stewart attended the British premiere of  Breaking Dawn: Part 2 wearing yet another lacy, sheer Zuhair Murad outfit, prompting all of us to wonder: is she morphing into a glorious hybrid of Blake Lively, Cher, and Leighton Meester (in this outfit, specifically)? For the second evening this week, Kristen's body was encased in glittery, see-through panels with strategic coverings over certain areas. Zoom in on the 360 look above before we get down to the nitty gritty.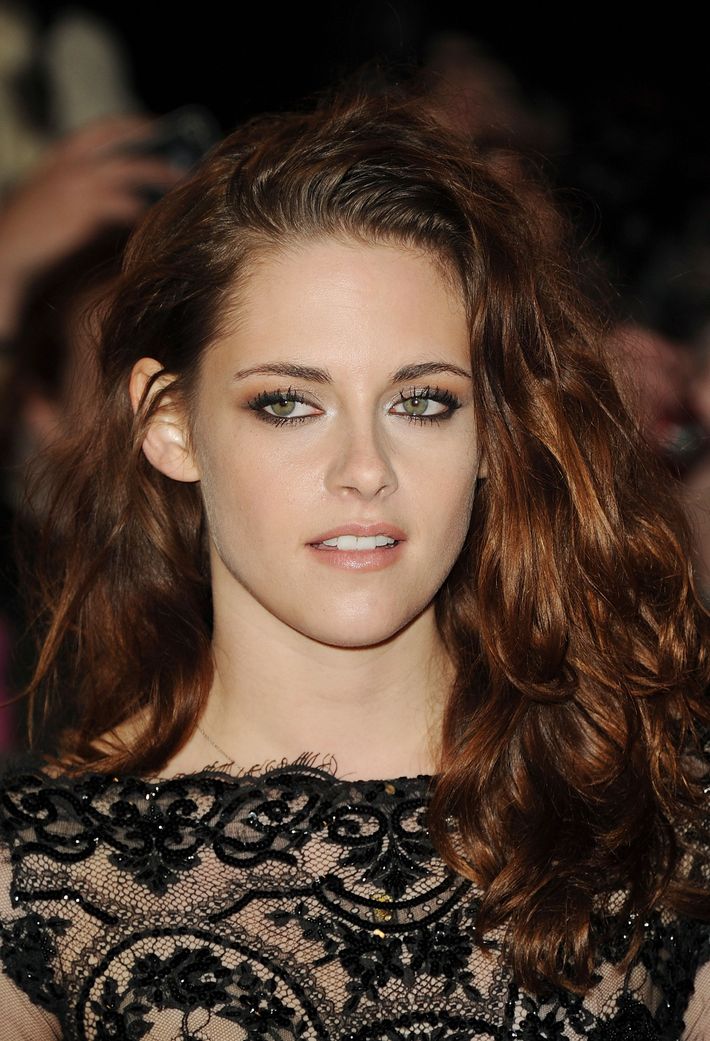 First, let's address one big concern off the bat: the R-Patz love token is, as usual, tucked under her top. There's no fancy pendant placement today — it's sitting on her chest like a normal necklace. Meanwhile, her hair is in its more natural untamed state.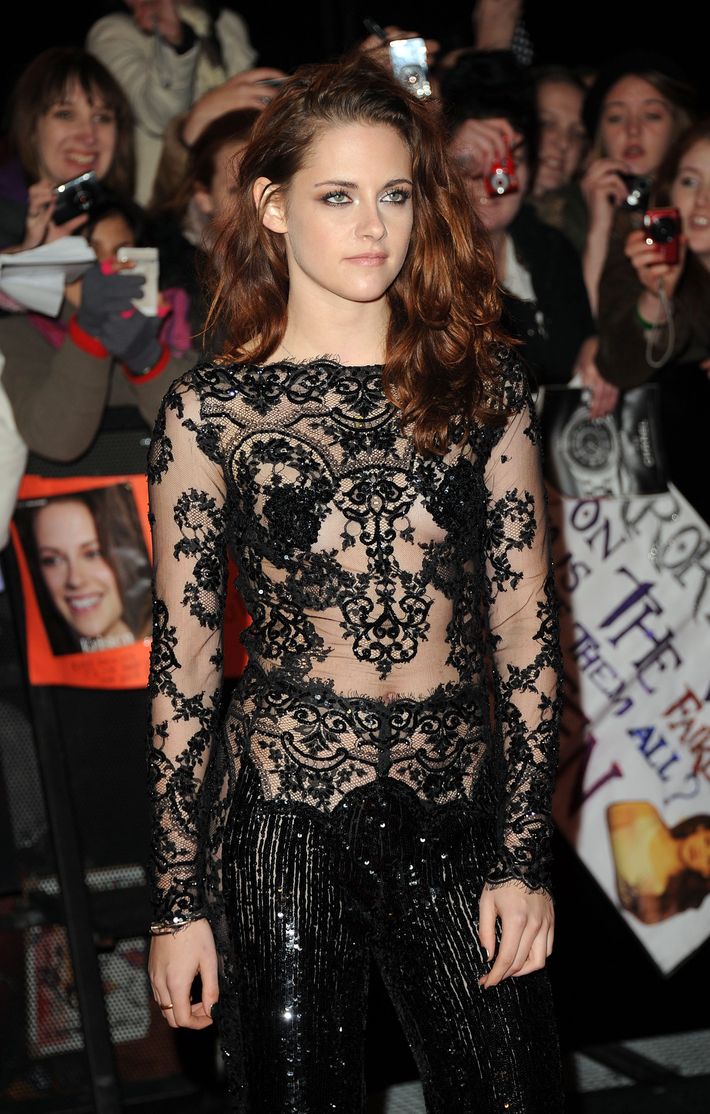 Basically, if Lil Kim and King Arthur collaborated on a jumpsuit, this might be the finished product. Pasty-like sequin clusters strategically cover the boob zone, while a sparkly codpiece-type thing covers her crotch. Perhaps in-keeping with her new vaginal-themed bracelet, this is a very erogenous-oriented outfit. Meanwhile, she certainly picked the right moment to show her bellybutton: the Rorschach pattern leaves just enough open area to put her in the trendy midriff club.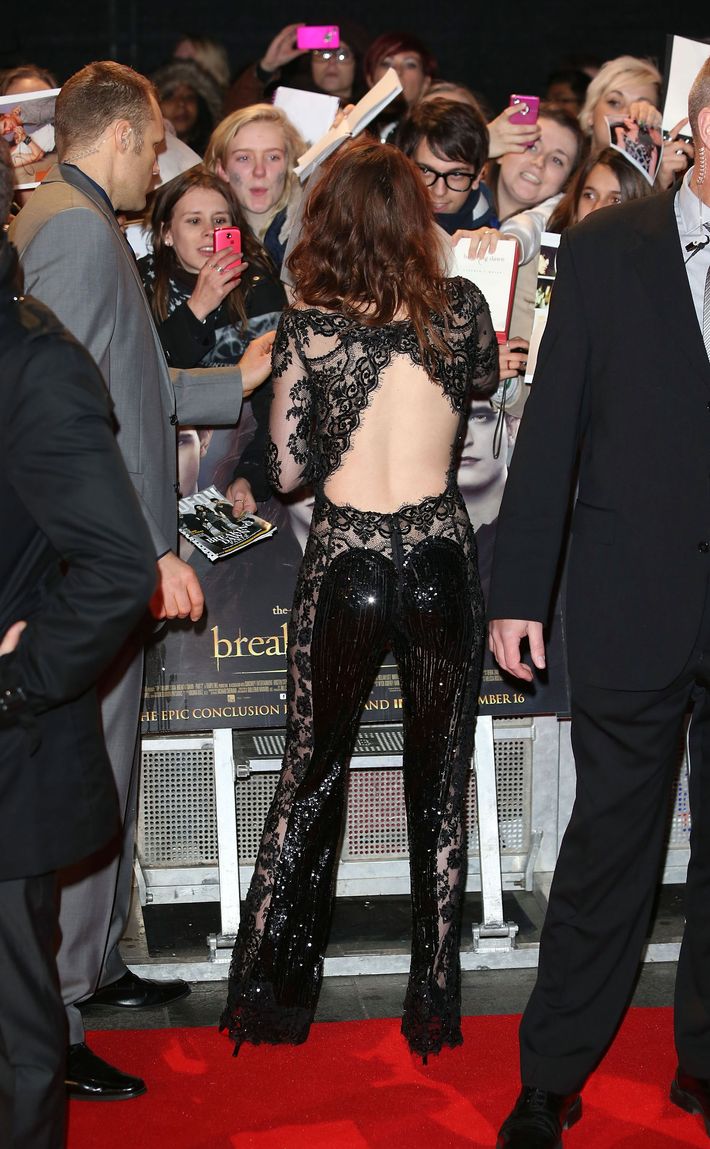 The sides of the jumpsuit are completely sheer, but a heart-shaped patch covers her bottom, sort of like a couture version of cowboy chaps. Her back is left exposed, with just a bit of lace at the top that does nothing to detract from the sequins, which act like a sparkly beacon to her rear end, which must be blushing from all the attention it's gotten this week.
Related: Kristen Stewart's Twilight Dress: Visible Butt Cheek