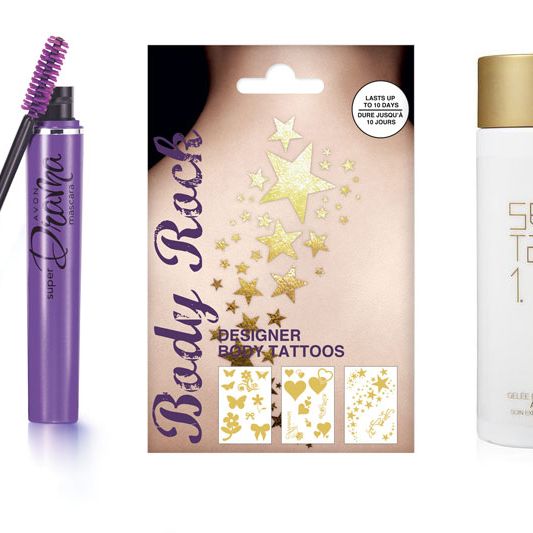 Each weekend, I test out a few of the many beauty products to hit my desk so you don't have to.
Body Rock Designer Body Tattoos ($5.99 for a set of three): Just in time for the sparkliest of seasons are these golden temporary tattoos. The heart, bow, floral, and butterfly shapes are best left for the tween set, but I actually found myself smiling at the trail of stars I had applied onto my wrist, even though they started to flake off by the end of the night. They also made me realize that someone needs to invent shimmery permanent tattoo ink: Even those with (real) cool tattoos asked where I got my fake ink.
Sentara Rose Gel Remover Expert Skincare Eye & Face ($50): This makeup remover is French and packaged in a pretty white-and-matte-gold bottle, but once the contents are squeezed out onto a cotton pad, it looks like the aftermath of a terrible sinus infection. Though rose botanicals provide antibacterial and hydrating properties, the gel is too heavily perfumed. The jelly consistency also feels strange (even though it does take off makeup), and I won't be using this product again.
Avon Super Drama Mascara ($9.50): The latest release from Avon is meant to lengthen and volumize lashes for a high-impact look. The brand also advertises that eyes will look "13 percent bigger," which is a bold claim. After a few quick swipes with the dense, wavy brush, the pigment managed to get all over my upper lids and only made my eyes look like I'd gotten into a fight with this product. There was a slight lift and curl to some of the lashes, but more noticeable were the errant flecks of black I had to wipe off afterward with a Q-tip.