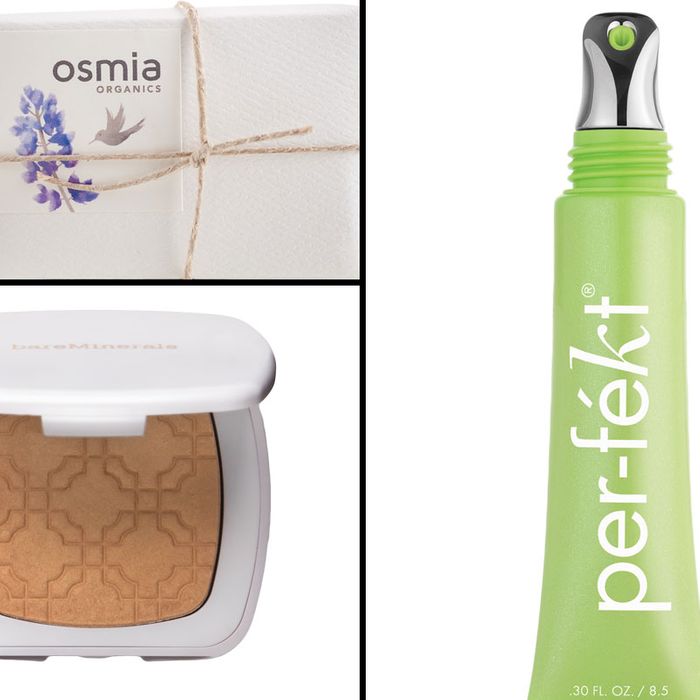 Each weekend, I test out a few of the many beauty products to hit my desk so you don't have to.
Osmia Rose Clay Facial Soap ($22): Bar soap isn't ideal — too slippery! — but this one will make you a convert. Developed by a former emergency-room doctor, Osmia's products are all 100 percent organic; this facial cleanser uses Australian pink clay, kaolin clay, rosemary, avocado, and palma rosa ingredients. Unlike other "herbal" products, the scent is nonintrusive. And while most organic soaps also lack lather (they don't have sulfates, the chemical that gets drug-store products sudsy), this bar delivers a nice, soft foam that gently cleanses skin without leaving the face feeling tight and dry. The coconut milk and jojoba inside really do leave skin feeling moisturized. You might even find yourself stroking your skin afterward.
Bare Minerals Ready Luminizer ($26): So many "luminizers" can leave skin looking too white with pearly pigments, or overly bronzed from golden shimmers. But the latest from this mineral-makeup brand gives cheeks a nice, subtle glow if applied properly. The first time, I got a little too aggressive with a regular powder brush, which picked up too many tiny, sparkly particles. I looked like I was auditioning to be in Cirque du Soleil. Next time, I used a smaller, angled blending brush, which looked much better and played up my cheekbones. For a great skin pick-me-up every morning, all it takes is a light swoosh.
Per-fekt Eye Perfection Gel ($45): It's not quite a concealer, not quite an eye cream, and really difficult to tell what this product even does. It supposedly evens skin tone in the eye area with a mousselike gel that's lightly tinted. Once applied, though, nothing really changes. At least the cold metal applicator feels nice against your skin.