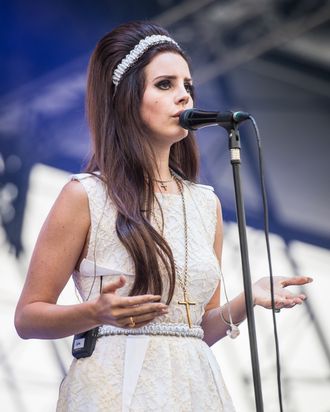 Photo: David Wolff - Patrick/Getty Images
Last week, @LanaDelReyWorld, an unverified account "ALL ABOUT LANA DEL REY," tweeted, "NEWS: After being the face of H&M and Jaguar, @LanaDelRey is now officially the face of the clothes label, #Versace. Photos will follow!" Then: "Oh sorry, it's a kitchen furniture label!" And we couldn't decide whether this was Truth or Hipster Comedy. Finally, an answer from the Internet Gods:
As it turns out, Lana Del Rey will NOT be the new face of Versace (as previously rumored here). Fashion Bomb Daily reached out to the fashion house for confirmation. A public relations representative said, "As much as we love Ms. Del Rey and appreciate her talent, we do not confirm her to front our upcoming campaigns."  There goes that.
What do you mean, there goes that? Lana would look great next to a set of solid-oak cabinet doors with an Autumn Brown finish!