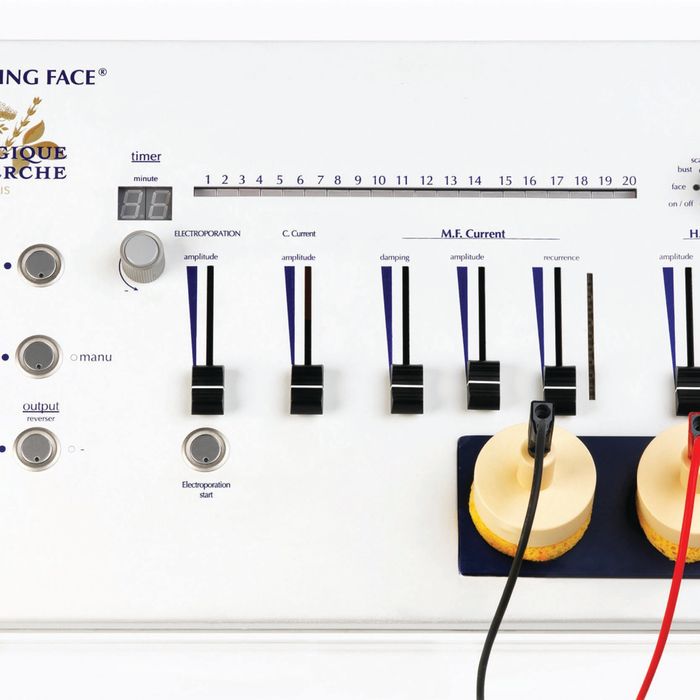 I'd never even considered changing my face until I heard about a Biologique Recherche treatment called the Magical Remodeling Face Machine. The French company promises it will widen eyes, soften wrinkles, define cheekbones, and recontour your overall visage with a totally noninvasive procedure. In lieu of injections or surgical maneuvers, technicians at the Peninsula Spa use electric currents at three different frequencies to (allegedly) stimulate tissue, plump the skin, and create that elusive red-carpet-worthy "glow" that I previously presumed was only available to those with an abundance of time, money, or both. Even though it was incredibly expensive (we'll get to that later), I immediately wanted to try it.
The spa's manager forewarned me that "this definitely isn't your average aromatherapy facial." There would be no steaming or extractions, as the main goal is to calm the outer layers of skin while stimulating the underlying tissue. "Also, the products smell sort of yeasty," she noted, as if this was no deterrent. (Luckily, after this first treatment, the thick, cold, and, yes, yeasty mask was switched out for a seaweed-based one that smelled like gin.)
Nearly asleep in a spa bed, here's what I remember next: "I'm going to apply the placenta and amniotic fluid serums … " Now wide awake, pig placenta was swiped across my cheeks. My facialist explained that each client gets a customized blend of serums, and my sensitive skin would benefit from the placental vitamins and minerals from a pig (with DNA "similar" to that of humans). Once this placenta-laden product was applied, she began to roll two sponge-covered electrodes over my face in gentle circles.
"Does it feel like you're being scrubbed with electric eels?" a friend later asked me. No, but it does feel like a mild taser to the face — a continuous series of subtle twinges that are warm but not painful. This came with a slight metallic taste in my mouth, as if I'd bitten down on a ball of tinfoil (which, for whatever reason, I did on multiple occasions as a child). 
She did half my face first and then handed me a mirror so I could see the difference. There definitely was one. The "done" side looked more alert, awake, smooth, and decidedly younger than the "undone" side. On one side, I looked eager and enthused. On the other, I still had my default expression: a skeptical smirk.
Once she finished, my entire face was supersoft, tight, and completely line-free. Suddenly, I had cheekbones that I had never noticed, and I started getting compliments right away: everything from "You're glowing!" to "You look like you've had work done." At 28, I hadn't exactly been wrinkle-ridden, but this treatment tightened any slackness and made me feel like my face was worth a whole lot of money. I looked more important, like someone who always deserved undivided attention.
That's a lot of benefits — both cosmetic and psychological — for one treatment, and if I had $295 (the cost of the one-hour facial) to blow every few weeks for necessary upkeep, I wouldn't hesitate, if only because this particular blend of pig placenta and electric currents gave me what one friend refers to as "rich-girl skin": tight, glowing, seemingly untouched by stress. And it's maybe worth becoming poor for.