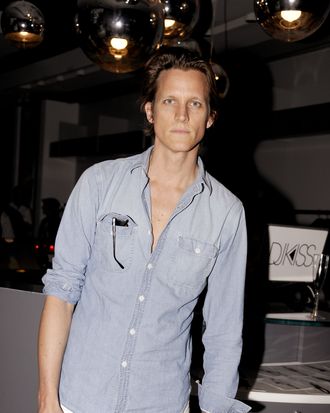 Magnus Berger.
Photo: CLINT SPAULDING/Patrick McMullan
WSJ.'s new editor-in-chief, Kristina O'Neill, is staffing up ahead of her debut issue, which comes out on February 16. Today, she appointed a new creative director, Magnus Berger, according to a press release. Known for his artsy, avant-garde aesthetic, Berger co-runs the creative agency Berger & Wild and edits edgy indie publication The Last Magazine. He's a decidedly unexpected choice for WSJ.'s conservative readership, and his appointment suggests that the magazine is moving in an edgier, more experimental direction, perhaps with younger photographers and a more modern look.
On top of his new job, Berger will continue publishing Last and running his agency, whose clients include Alexander Wang, Derek Lam, and Helmut Lang — all of whom have more of a "downtown" vibe than the average WSJ. subscriber. It'll be interesting to see what develops, especially since Deborah Needleman's first fashion issue for T will come out that same week.
Related: Magnus Berger and Tenzin Wild Get Drunk, Make Magazines