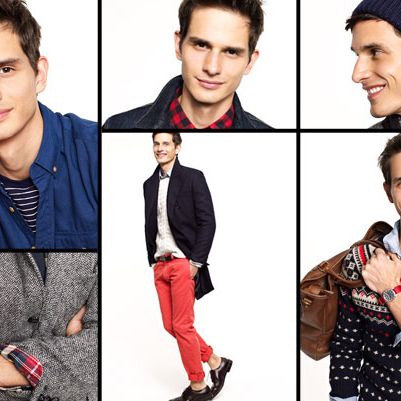 Photo: Courtesy of J. Crew
Today is the day when the whole Internet goes crazy for a little lot of online shopping. And if you happen to pop over to the J.Crew men's section, because you're getting an early jump on gifts for your husband or just borrowing from the boys, you may notice a photographic banner gracing the top of the retail grids. There you'll see a young model named David Smith, whom you may recognize from Calvin Klein ads and who lately has been receiving more screen time at J.Crew since appearing in their fall/winter Fashion Week presentation — wearing very similarly seasonal clothes to the ones in the photos above. You'll be forgiven if you're too busy paying attention to his near-perfect eyebrows or what can only be described as "soft lips." Here's a man that stands as a beacon against crass, insane, online consumerism.
We're exaggerating, of course. But only about Cyber Monday, not David's absolute beauty.