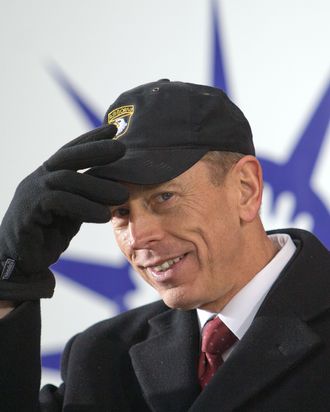 Photo: Edward Le Poulin/Corbis
With Jill Kelley — a second younger, fit brunette in former CIA director David Petraeus's in-box — making her debut on the cover of the New York Post this morning, it is unfortunately probable that a new female media archetype is ossifying. Inspired by the recent memory of Rielle Hunter, the mold appears to be that of an obsessive female stalker/seductress, intoxicated by proximity to male greatness and responsible for its oh-so-human demise. (If only the leering press could keep its mind out of the gutter!) Although the tabloids have leaned on this characterization to sketch their narrative of a catfight breaking out in Petraeus's foxhole harem, Wired War Room blogger Spencer Ackerman's account makes it appear that what the decorated general operates is more of a co-ed cult.
Like Hunter, who pitched herself as a documentarian to John Edwards after noting how "hot" he was, both territorial mistress Paula Broadwell and Kelley were self-appointed, unpaid members of Petraeus's inner circle — Broadwell with her Harvard dissertation-turned-hagiography, All In, and Kelley with her volunteer work as an "unpaid social liaison" to Petraeus's Central Command and Special Operations Command. Anonymous sources have dished that Broadwell flouted Afghan customs while embedded with Petraeus, wearing "form-fitting" clothes, and that Kelley took to referring to herself as an ambassador after the army printed out a certificate of appreciation that called her an "honorary ambassador." The Daily Beast has already pointed out that Broadwell and Hunter, who share a zip code in Charlotte ("Mistressville, USA") and a love of exercise, may have already met at the Dowd YMCA. "The six-story facility offers a multitude of programs for children and is situated on East Morehead Avenue, almost directly halfway between the two homes," the Beast writes.
In the face of all this, Ackerman's confession that Petraeus's seduction tactics know no gender bounds should be required reading. Ackerman fondly recalls when Petraeus made a surprise visit to a base where he was embedded — greeting Ackerman for their dawn jog/interview (his shtick is gender-neutral) with an intimate, "What the hell is Spencer Ackerman doing in Mosul?" — and then cringes when he revisits the resulting prose. ("Petraeus is no stranger to either difficulty or realism.") He name-checks a handful of other male reporters who were similarly distracted by Petraeus's charisma.
The megalomania required to rise to a stature like Petraueus's has consequences that are more complicated than unbecoming personal weakness. The Rielle Hunter affair was scandalous, but it was the much more complicated web that Edwards wove with his devoted, paternity-claiming male staffer, Andrew Young, that made his campaign-corruption trial so torrid. ("He said he loved me and that he knew that I knew he would never abandon me," Young testified.) By flattering egotistical journalists — entertaining with their unfavorable lines of inquiry, answering their follow-up questions, never cutting off their access — Petraeus and his staff induced a class of sophisticated magazine writers like Ackerman to, by his own admission, adopt military terminology, drink the counterinsurgency Kool-Aid, and be "insufficiently critical." That should be much more frightening to Homeland-watching Americans than Paula Broadwell's capacity to blackmail him.