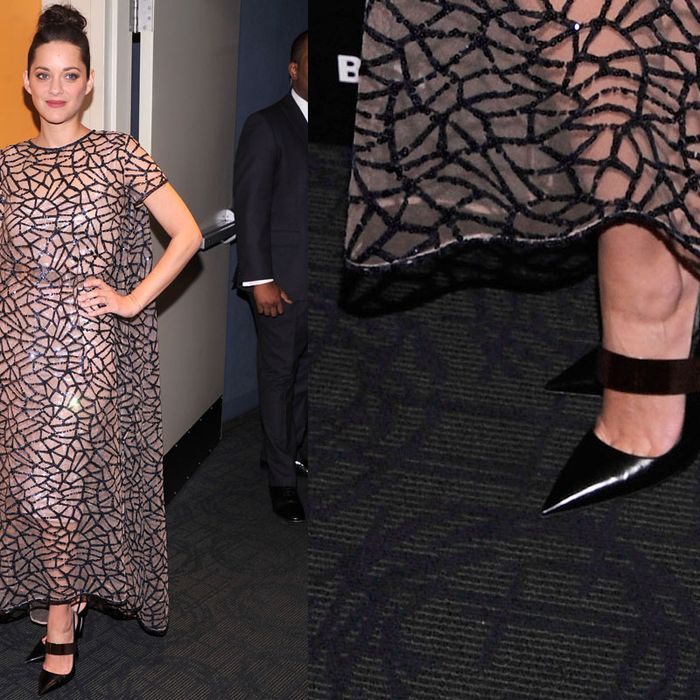 Marion Cotillard and the problematic shoes.
Photo: Stephen Lovekin/Getty Images
We've all hit that breaking point with terribly painful footwear when one just cannot … take … another step. For Marion Cotillard and her pointy new Dior pumps, that occurred on the red carpet at last night's screening of Rust and Bone, hosted by the Cinema Society with Dior and Vanity Fair. Halfway down the press line, she paused, bent over, and took off her shoes. "Please put them back on," pleaded her handler, but Cotillard protested that her feet were in pain and handed off the heels to a nearby publicist, who dutifully carried them for the rest of the carpet and into the theater, all the while commanding photographers not to shoot the actress below the ankle. Cotillard only consented to be reshod when she had to speak in front of the audience, at which point her handler shoved her shoes back on before she stood up. 
Cotillard is no sissy when it comes to footwear — she has gamely walked red carpets with terrifying-looking contraptions on her feet, including many from Dior — so we can conclude that these shoes were truly intolerable. Rest assured, folks, it happens to the best of us.