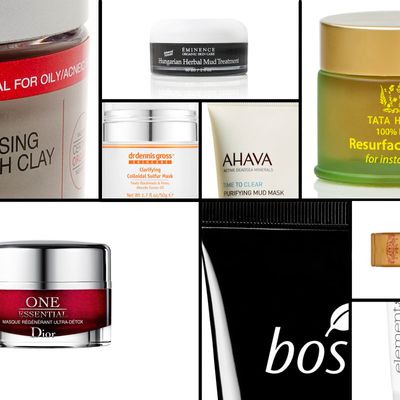 The best part about Thanksgiving is the constant stream of food, duh. The buzzkill moment sets in once the elastic-waist pants are on and you have a minute to tally how many slices of pie and spoonfuls of marshmallow-y sweet potatoes you just digested. While not much can be done about your bloating until you're physically able to get vertical and moving, you can at least rid your skin of the excess surface oils produced while fighting siblings, cousins, and even grandparents for that last spoonful of gravy.
Whether formulated with clays sourced from the world's mineral-rich regions or loaded with pore-tightening sulphur elements, these masks will infiltrate the dermis and leave skin looking more polished and radiant. Don't worry, though: Oily skin isn't a direct result of eating too many buttery dinner rolls, it's a hormone thing. But at least this way we can all feel better about ourselves, if only from the neck up.
Ahava Time to Clear Purifying Mud Mask ($31): Using minerals found only in the Dead Sea, this two-minute mask clarifies pores while hydrating the skin with moisturizing jojoba oils. 
Boscia Luminizing Black Mask ($34): This dark black mask's main ingredient is montmorillonite clay, which is found in France and is loaded with 67 minerals to polish and nourish skin. After applying a thin layer to the face and letting sit from fifteen to twenty minutes, you will slowly peel off the mask from the outside in. Bonus points if you remove the whole thing in one go.
Dior Capture Totale One Essential Ultra-Detox Treatment Mask ($95): The algae-based, serumlike mask uses cell-regeneration technology to remove toxins underneath the top layer of skin. After allowing the formula to work its magic for ten minutes, just wipe away the excess with the enclosed tiny spatula. It's kinda fun, and your skin will look brighter.
Dr. Dennis Gross Clarifying Collodial Sulphur Mask ($42): The mint-scented volcanic ash element in this mask's bentonite clay is sourced from Wyoming and draws out excess surface oil from skin. Collodial sulphur is there to treat blackheads and minimize large pores. It can be applied onto skin and rinsed off after ten minutes or worn overnight for oilier skin types. 
Elemental Herbology Facial Detox ($46): After slathering this organic Amazonian-clay-based mask over your face, you'll immediately smell the rosemary, eucalyptus, and lavender essential oils, which not only make you feel like you're in a spa, but also treat skin with oil-balancing properties. 
Eminence Hungarian Herbal Mud Treatment ($46): This forest-green-colored mask will make you look like a sea monster for the fifteen minutes it's sitting on your skin. But after removing the thermal-mud-based formula, complexions should appear more polished, hydrated, and smooth. 
Kesari Pore Minimizing Indian Clay Masque ($29.50): An ancient Indian tradition of prepping brides-to-be with skin-smoothing saffron is updated with a blend of healing aloe vera and hydrating hyaluronic acid.
Kimberly Sayer Deep Cleansing French Clay Mask ($24): Like other masks, it detoxes skin of impurities and excess oil. It's hardworking ingredients will also help rid skin of blemishes if dabbed on spots as an overnight treatment.
Tata Harper Resurfacing Mask ($55): More serumlike in consistency, this mask is gentle enough to stay on the skin for 20 to 30 minutes. Pomegranate enzymes cleanse pores, while pink clay exfoliates to create a fresh look.