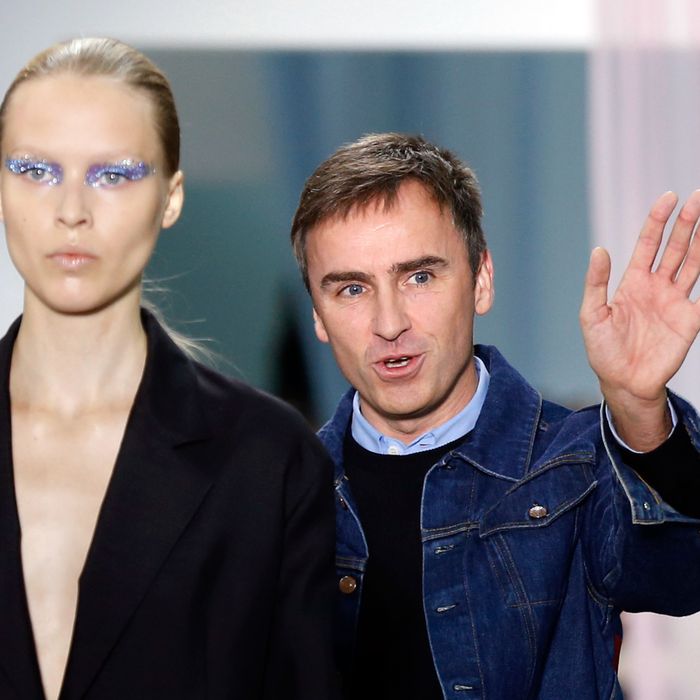 Raf Simons at Dior.
Photo: FRANCOIS GUILLOT/AFP/Getty Images
A profile of Jil Sander in the latest issue of WSJ. sheds some light on the mysterious designer shuffle that took place last spring. See, when Sander's return to her eponymous label was announced, everyone assumed it was because Raf Simons was leaving to go to Dior, as previous rumors suggested. But then Dior said nothing, and several journalists reported that Simons had been dismissed outright ("unceremoniously dumped," as WWD's Bridget Foley put it). Finally, several weeks later, Dior announced his appointment, and everyone got their happy ending.
Neither Dior nor Jil Sander has ever really clarified what went down during that time, and now, thanks to WSJ., we have a better idea. It's pretty messy, actually: Simons was apparently in secret talks with Dior for months before he left Sander, but nothing had been decided at the time when he was let go. Meanwhile, perhaps sensing Simons's restlessness, Sander CEO Alessandro Cremonesi had also been holding secret meetings with Jil (the person) to see if she'd consider returning. She agreed, and Simons was given the boot before his Dior parachute was ready. As many have noted, his final Sander collection had a distinctly Dior-esque flavor to it, as though he were auditioning for the role; he then went home to Belgium empty-handed, to everyone's dismay.
Anyway, all's well that ends well: Both Jil's return and Simons's designs for Dior have been respective hits so far. But we have yet to see if Jil can make her label profitable, as it never really was under Simons, and whether Simons can sustain Dior's commercial appeal. So, should you still care about this saga, rest assured that it will continue.