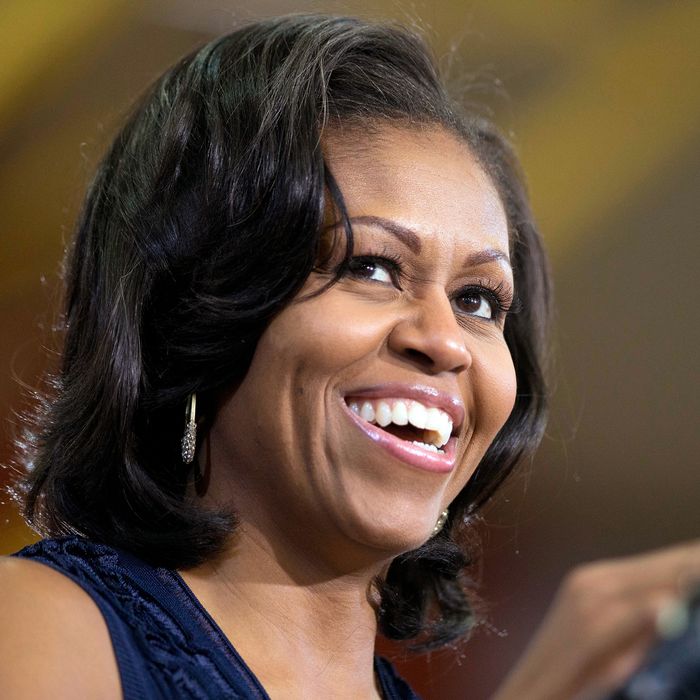 Photo: Julie Jacobson/Corbis
First Lady Michelle Obama didn't want to wait for Downton Abbey to return on January 6 to dig into the third season, which recently concluded in the U.K. 
Naturally, ITV was happy to oblige the wife of Barack Obama, non-PBS-defunding U.S. presidential candidate, according to The Sun. (Obama also invited Abbey stars Hugh Bonneville and Elizabeth McGovern to the White House State Dinner with David Cameron this year.) "They were very polite and we were more than happy to sort out some DVDs to send over," said an ITV source.
Meanwhile, America's top diplomat, Secretary of State Hillary Clinton, can't stop talking about interior decorating (mostly to avoid talking about her next move), including telling Gail Collins of her love for HGTV's Love It or List It. If anyone wants to play armchair psychiatrist about this: Downton Abbey is about navigating the social codes of Britain's aristocratic class during its decline, and Love It or List It dramatizes the cost-benefit analysis of repairing a broken home (house/White House).
We'll settle for relief that neither woman has admitted to loving Girls, 666 Park Avenue, or Say Yes to the Dress.