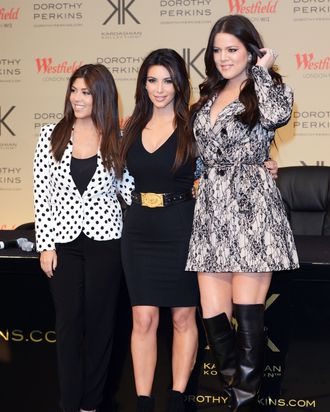 Photo: Rune Hellestad/Corbis
Jacey Eckhart, spouse editor of Military.com, writes in the New York Times today that she and other long-married military wives have been made to feel insecure by David Petraeus's "women who look like Kardashians."
I watched the Petraeuses on TV and noted that, like my husband, the general is in that Cary Grant stage of a military career. I watch them and I am suddenly aware I look less like the buxom nurse in "Operation Petticoat" and more like Mr. Grant's co-star, Tony Curtis, every day. And not the young Tony Curtis, either. Meanwhile, early next year my husband will deploy for the eighth time. So, not surprisingly, all I can think as I watch the Petraeus scandal unfold is: The Kardashians are coming. The Kardashians are coming.
Eckhart's defenses against the brunettes liberation front include tactical strategies like "identify[ing] the rare, much-too-attractive individuals in our work and social circles whom we need to keep at arm's length" and staving off temptation with ice-cream treats. "One night he woke me up with a call from a 7-Eleven in Daytona Beach, Fla.," she writes. "'Some girl was flirting with me a little too much,' he said. 'I thought I should go get a Klondike bar instead.'"
Oh, what Petraeus should have not done for a Klondike bar!