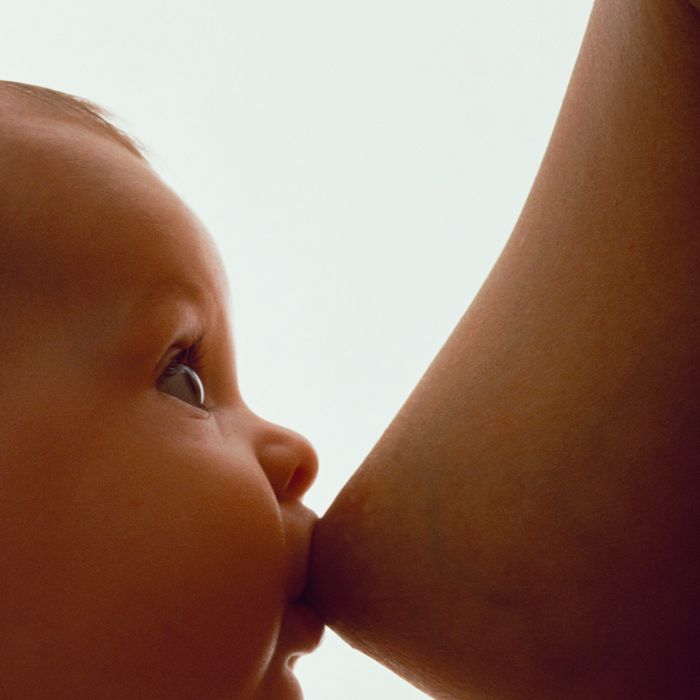 The Breast Milk Baby makes noises when she nurses. She also moves and cries. She sobs her demand to be burped and swaddled. She goes by many names — Savannah, Cameron, Lilyang, et cetera.
But the Breast Milk Baby is not an adorable infant in Park Slope. She is a doll. And she is available for your daughter or, if you are politically enlightened, your son. These "babies" simulate breast-feeding. In fact, the doll comes with a "fashionable halter-top" for the girl who plays with her, with two sensors at the shirt's chest decorated with flowers. When the child puts the doll up to a flower, the doll emits a suckling noise. She or he comes in eight varieties of skin tones and costs $89. And perhaps unsurprisingly, the Spanish-made doll has caused debate. Is she an inappropriate plaything for a child? Does Breast Milk Baby encourage girls to become all too conscious of their anatomy and define their future through breast-feeding?
Those who dislike it — and the other week they included lots of bloggers and Bill O'Reilly — "are people that either have problems with breastfeeding in general, or they see it as something sexual," the doll company's U.S. representative has claimed.
To me, Breast Milk Baby is just an extreme citizen of Milk Culture. Milk Culture champions a "natural" maternal identity of breast-feeding, lactivism, and attachment parenting through pro-breast-feeding organizations — not only the long-standing La Leche League but also newer groups like Best for Babes, with their serious ad campaigns in glossy magazines.
On a more personal note, there are now plenty of breast-feeding blogs, like the Slacker Mom's Breastfeeding Blog Hop and Milk Junkies, a transgender dad's breast-feeding diary.
Milk Culture also has its celebrities. There's Mayim Bialik, the actress who played Blossom, who blogs about breast-feeding her 3-year-old on the subway. Singer Alanis Morissette has given interviews where she promises to let her toddler son Ever breast-feed as long as he wishes. (And there's Alicia Silverstone in a video that went viral, chewing her food like mother bird and passing it on to her infant, in a nursing-esque maneuver: Milk Culture has made sure that I, the mother of a young toddler, actually didn't find that video particularly gross.) Even Kelly Preston and Jenna Elfman do breast-feeding campaigns — the catchphrase is don't be "booby trapped," or tricked into bottle-feeding.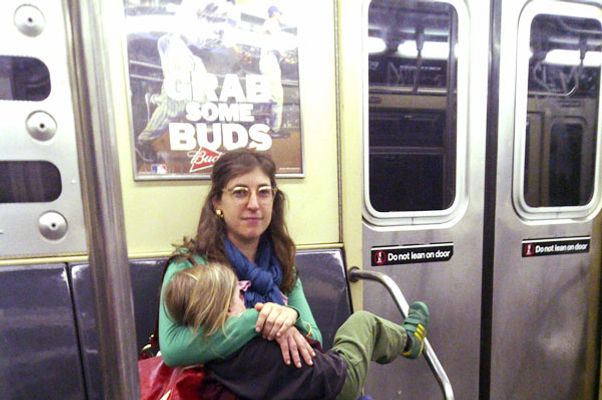 And there are the inevitable Milk Culture paraphernalia: tees with "Weapons of Mass Lactation" and "Eat Local" on them; pacifiers perfectly shaped to resemble nipples; stylish slings and nursing covers with psychedelic prints.
I am for the rise of Milk Culture, even in its sillier varieties; breast milk is better for infants as it improves immunity and helps parent-child bonding. It aids a baby's future health, especially nursing in the first months of life.
But I part ways with Milk Culture over recent programs to ban formula samples from hospitals. Mayor Bloomberg's Latch On NYC campaign, for instance, asks hospitals to monitor formula's dispensation. In the language of Latch On NYC's press release, the initiative seeks to "minimize practices that can interfere with that choice [to breastfeed] such as supplementing breastfeeding infants with formula." Nearly 30 hospitals have agreed to this almost-ban.
Meanwhile, Massachusetts recently became the second state, after Rhode Island, to block formula giveaways for new mothers, with all 49 maternity facilities across Massachusetts agreeing to go "bag-free." In the past, when new parents staggered out of the hospital, toting eight pounds of sobbing purity they barely understood, they or their partners would also carry a "swag bag" of Enfamil or Similac, and assorted freebies like samples of diaper-rash cream. No longer.
Of course, going "bag-free" is something of an anti-corporate move — discarding all those tote bags with formula brand names scrawled across the front. Nevertheless, I can't help but note the darkly noblesse oblige sheen of some of these anti-formula campaigns. After all, it's often lower-middle and working-class women who use formula, either full-time, as a supplement, or in a pinch. They may secretly stash those giveaway bottles for a day when they just can't wake up in the middle of the night to breast-feed, or when their milk supply is low or they aren't able to breast-feed at all.
Working women like these are the ones least likely to make it to the American Academy of Pediatrics–sanctioned six-month mark for breast-feeding, in part because in their workplaces "pumping rooms" may be a fantasy, and a good pump is a costly dream. I am talking about women like Donnicia Venters. Venters claimed that in 2009, her employer (a debt collection agency, no less) fired her after she allegedly stated her intent to use a breast pump when she returned from her pregnancy leave. When her case went to trial, the judge asserted Venters's termination was not sex discrimination.
When I spoke to Suzanna Martin, a pediatric emergency physician who works at Shady Grove Adventist Hospital in Rockville, Maryland, she was critical of Latch On.
"Women aren't stupid — they've got the information," said Martin. "They know breast-feeding is better than formula." But Martin notes that not everyone can afford pumps, "Those suckers are $300. And how easy is it for low-income woman to pump at work?"
These sorts of critiques don't tend to be expressed by the small but voluble backlash against Milk Culture, like the nonprofit group Bottle Babies, which embraces formula for infants, or in the snickering attacks on the breast-is-best mantra — hey there, comedian James Braly, who wrote an article on how his wife's breast-feeding turned him off.
If Bloomberg and others want to keep formula out of a mother's reach, throwing the proverbial baby out with the DHA-enhanced bathwater, they should to make it easier to breast-feed all around. How about state-funded lactation consultants and post-partum doulas, who would visit all women after they give birth, in the hospital and then in their homes? A series of accessible, free pre-natal classes on breast-feeding for every woman? I wonder at the lack of consistency of a system where celebrities, politicians, and even dolls enshrine breast-feeding, but nursing is not fundamentally enabled in new mothers' lives. As long as that continues, Milk Culture will always be more a trend of celebrity pronouncements, natural rubber artifacts, and creepy dolls. Better to translate it into real support: feeding stations at work, adequate maternity leave, and better job protection for women who are breast-feeding and pumping. In other words, give women something real to latch on to.
Broadminded is a weekly column about gender and women's issues, written alternately by Alissa Quart and Lauren Sandler.