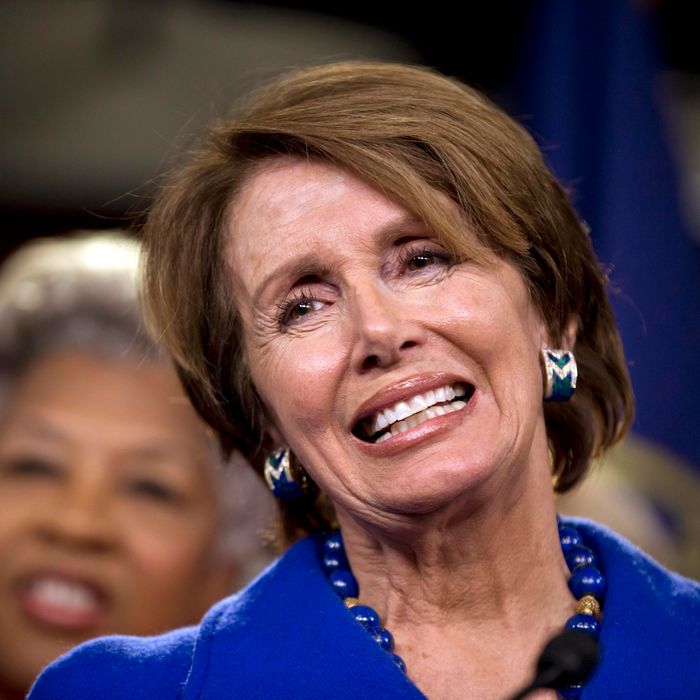 Photo: J. Scott Applewhite/AP/Corbis
Representative Nancy Pelosi surrounded herself with female members of the House — "my sisters," she said — for a press conference today, where she announced that she intends to keep her minority leader post, casting her decision as a victory lap in the GOP-surrendered war on women.
"I have made the decision that some of you may have some interest in, in order to continue work in empowering women, to making sure that our Affordable Care Act is enforced in a way to make sure that being a woman is no longer a pre-existing medical condition," she said, dubbing the presser (available on C-Span) a "girls' morning out."
When the late Tim Russert's cub reporter son Luke asked whether 72-year-old Pelosi's decision prevented the party's young leaders from advancing in the party, she laughed and shouted, "Next! Next!" while her scary biddy gang booed and accused the NBC correspondent of "age discrimination."
"Let's for a moment honor it as a legitimate question, although it's quite offensive, though you don't realize it, I guess," Pelosi said, to big laughs from the girls. "You have to take off about fourteen years from me because I was at home raising a family. The answer is no."
Russert, for his part, took it in stride. "While Pelosi laughed off my Q as age-ist, many House Ds will privately gripe it hurts caucus that all 3 leaders are 70+," he tweeted, adding that he asked the same question of male Democratic leader Steny Hoyer.