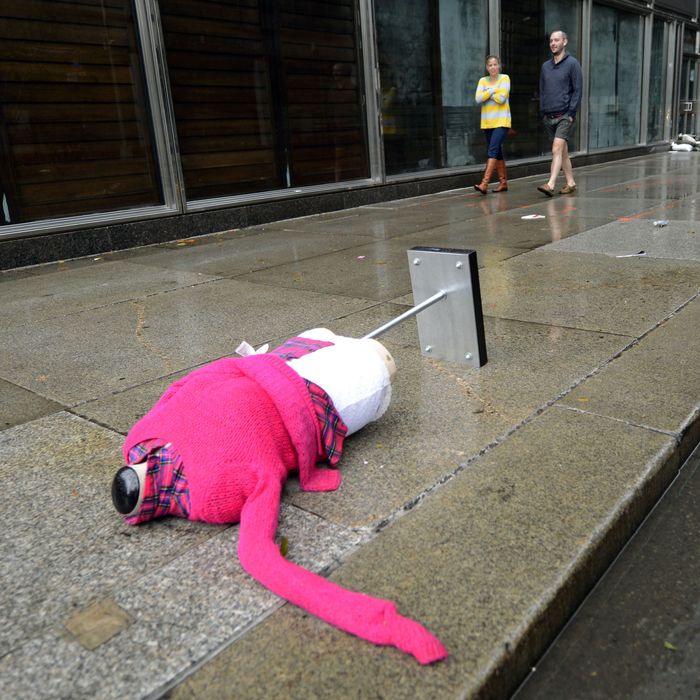 Photo: TIMOTHY A. CLARY/AFP/Getty Images
While hundreds of New Yorkers without power are lining up to buy iPad Minis — nothing better to do! — online retailers say those sitting at home or at makeshift offices aren't stress-shopping online. "It's nothing like a snowday, when people will jump online and start shopping," Neil Blumenthal, co-CEO of Warby Parker, told the Cut. "I don't think there's an appetite as people are glued to their televisions, glued to their Twitter feeds, or chatting with their new apartment guests."
Of course, as those in need are lining up for food, water, and gasoline, even discussing the hunt for a new pair of sunglasses feels crass. But as New York has become a hub for technology start-ups, the city has welcomed dozens of online retailers too. When the storm hit, businesses like Warby Parker, Gilt Groupe, Bonobos, Fab, and Mr. Porter had to first locate their employees and make sure they were safe. (In one case, Warby Parker even worked with their "friends in fashion" to get employees with flooded apartments new clothes.) Then these companies had to figure out how to serve the rest of their customers across the country while working remotely, and determine which distribution centers and mail services were out of commission. Warby Parker, with four distribution centers through the United States, had to route all traffic away from its Long Island center. And Fab.com, which distributes out of New Jersey — along with a number of other retailers like Bliss and Vineyard Vines that employ a fulfillment company called Dotcom Distribution in North Bergen, New Jersey — had to e-mail customers and tell them shipments would be delayed. Obviously, no one complained.
"Right now, there are about twenty zip codes we can't ship to," says Andy Dunn, the CEO of Bonobos, who "luckily" sends his packages out of Devins, Massachusetts. "And we haven't done the analysis, but people are not shopping in those places." Kevin Ryan, the CEO of Gilt Groupe, told Betabeat the company lost 10 percent of sales on Monday and Tuesday and would have to become fully functional by Thursday to not disrupt future business. Everlane, which launched a new range of apparel in the midst of it all, told the Cut they've seen New York sales decrease by about 50 percent. Others, like Net-a-Porter and eBay, declined to comment on how they were faring. Perhaps because Sandy came right before retail's most important season; admitting any hiccups now portends future trouble for the holiday season.
"No doubt this will have an effect on [annual] retail numbers," Dunn adds. "Delays in shipping, customers not thinking of shopping, folks who can't get things done, importing from China — all of that will have an impact." That's why, on Tuesday after the hurricane, he convinced his building's superintendent to let him break in to the Bonobos office. Inside, there was holiday merchandise he needed for a photo shoot in Brooklyn. Delays would harm his Christmas business, sure. But his decision had more to do with running a business in New York, where shopping feels nice and all, but carrying on as normal feels even better.