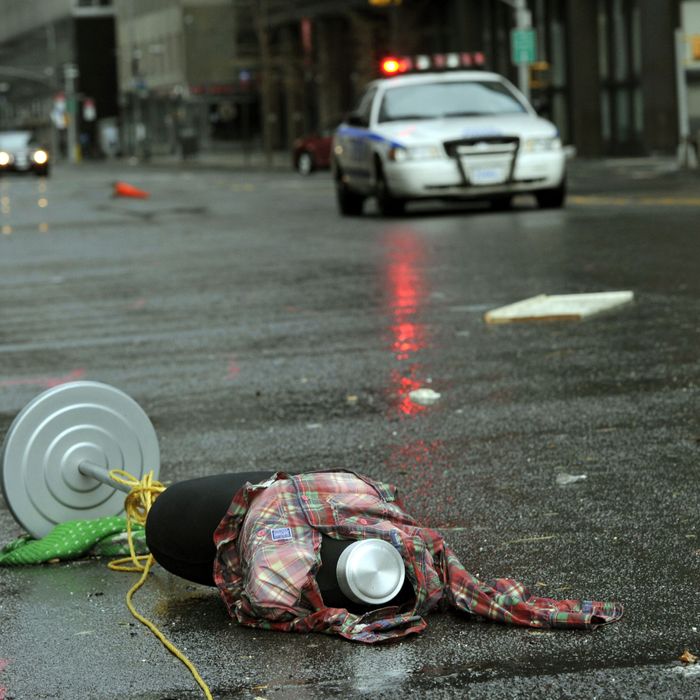 Photo: TIMOTHY A. CLARY/AFP/Getty Images
Walking into Manhattan from the Brooklyn Bridge, there is no crossing signal. Canal Street is empty, and eerie without other sidewalk neighbors with whom to share jokes about the unusual silence.
Until you reach Broadway and Canal. There, rising out of the quiet like a beacon of commercial fortitude, is OMG Jeans. Rightfully named, here's a discount denim emporium that was reimbursing cabs for employees from outer boroughs and spending hundreds of dollars on flashlights to ensure they could continue selling, even through the damage and darkness Sandy brought. 
OMG Jeans is one of those Manhattan stores, like Rag, or Yellow Rat Bastard Shoes, that seems to have one or two or six locations wherever you're likely to find tourists. There are four on Broadway between Canal and Houston, three near Times Square, and three in the vicinity of Union Square. But this location, the company's flagship, was the only one in the dark zone to have reopened after the storm.
Julissa Figueroa, an OMG Jeans employee from Williamsburg, had called a car service to bring to her work. No managers would speak to the Cut, but the OMG employee management system, as Figueroa described it, is cryptic: Employees call a central system each day, which tells them which store they are working at. Employees had been instructed that stores would be closed Monday, but that they should treat Tuesday as normal.
Fellow employees traveling in from Queens and the Bronx were paying $60 or $70 per cab ride, all of which was being reimbursed by the company. "Sometimes they buy food, too," Figureroa added. "It's hard to find a place to get coffee here, so someone has to go uptown." Mostly she was grateful to have work. "You see how all these stores are closed. A lot of people don't have a job right now."
Indeed, a walk through Soho — the city's premier shopping neighborhood — still feels like a retail-specific apocalypse. Every designer boutique is closed. Duane Reade is closed. Balthazar, as has been widely reported, is serving outside. Sur La Table is open to sell candles and EMS is providing flashlights and serving hot chocolate from a camp stove. Down the street, Scoop's sign from Monday — we'll be closing at 5 p.m. due to impending hurricane — had weathered the windy conditions. If you need new clothes, OMG Jeans is the only option.
Around 11 this morning, about a dozen employees were each busy with customers. But it wasn't stranded city residents shopping; most were Spanish- or French-speaking tourists who decided to board their flights to New York despite the storm. Figueroa spoke Spanish to a man looking for a pair of Levi's — the original American blue jeans — then found his correct size in the light from the wide-open front doors. She used a flashlight to guide him to a fitting room.
Without overhead light, sales would not compare to a regular day. But customers like Mariona Garcia, who arrived yesterday from Barcelona, were unfazed by the absurd shopping experience. Was this the grand New York retail scene they were expecting? "Big city," she nodded, and went back to browsing the wall of denim.