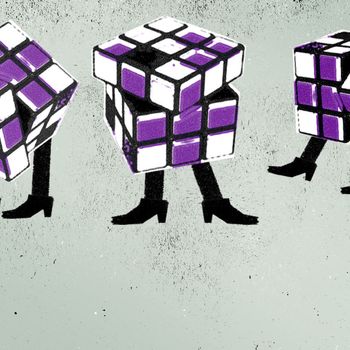 To us, it feels like a year's worth of news and scandal has transpired since the country re-elected President Barack Obama. But the people who write into newspaper and magazine advice colums are still feeling its reverberations, in the bedroom and at the Thanksgiving table. In this week's edition of Other People's Problems, we round up these and other holiday season dilemmas, including secret children, old boyfriends and an ingenious, yet dangerous, masturbation technique, for your instant, vicarious misery.
First up, the couple who's doing it for Obama.
Best Obama Cameo, Savage Love
Election night rekindles 20-year-old flame, almost.
My wife and I have been together for 20 years. I love to receive oral, but my wife has no interest when I try to return the favor. She claims it does nothing for her. We celebrated Obama's reelection with a bottle of wine in the bedroom. When I made a move downstairs, she didn't stop me. However, she said it tickled her like crazy.
Worst Romney Cameo, Dear Prudence
When the Thanksgiving party is further right than the G.O.P..
My family is getting ready for our annual Thanksgiving dinner. We used to look forward to Thanksgiving, now we dread it. My sister's husband's side of the family has made a recent tradition of inviting themselves to our family dinner at my mom's house. Politically, they are much more "severely" conservative than Mitt Romney claimed he was. That's OK, but the problem is that my brother is gay and insists on discussing politics with my brother-in-law's family. Comments from my brother-in-law's family such as "homosexuals are living a sinful life," "the gay agenda is destroying this country," and "if I ever found out one of my kids were gay, I'd never speak to him again" are the beginning of the end. As noxious as these comments are, my bigoted in-laws would never mention them if my brother and his partner didn't broach the topic.
The One That Mary Kate Olsen Should Read, Social Qs
Because it sounds like her mom wrote it.
My 28-year-old daughter, who lives across the country, asked if she could bring her new beau home for Thanksgiving. My concern is that he is 20 years older than her, my husband doesn't know he exists, and I'm afraid he will hit the roof if he finds out. We allowed a prior, age-appropriate boyfriend to stay in her room. Should I tell my husband? Or tell my daughter that I'm not comfortable having her friend? Our house is small, and there's no place for him except in her room.
Best Thanksgiving Surprise, Dear Prudence
Pull up a chair, secret daughter.
My father had an affair on the side many years ago, and I found out about it. The affair had resulted in the birth of my half sister, Annie. Dad has successfully kept Annie a secret for 25 years. She's now a young married mother, and we are somewhat close friends. While my mother knows of Annie, she does not know she's my sister. My parents divorced when Annie was 5 for unrelated reasons, but my parents still get along quite well. I host Thanksgiving each year. Mom and Dad are coming. Annie just told me that she would like to be invited to Thanksgiving. While I have explained the situation to her, Annie says she's tired of being kept a secret. I'm worried of not only causing discomfort for my dad, but humiliation for my mom if Annie decides to let the cat out of the bag.
Cold Turkey Thanksgiving, Miss Manners
After 35 years, guests chose the retirement home restaurant.
For 35 years we have celebrated Thanksgiving and Easter with close friends and their families. For some reason, starting last Easter, they don't want to share holidays with us. They don't go to anyone else's house. Actually, that would be easier to take. I am very hurt by this. I have no idea what has happened. I feel we are owed an explanation. If a man said this to a long-term girlfriend, she would assume he doesn't want to see her anymore. A recent e-mail just said they are eating with their daughter and son-in-law at their retirement-home restaurant and that it would be a "different dinner for us all." I don't know what that means, so I didn't respond. We still see them regularly and they act normally, so this is a puzzle.
Worst Dog, Dear Abby
Who would have guessed little Princess would come between them?
My boyfriend, "Richard," and I are a mature couple who have been seeing each other for three years. I love him. My dog is the issue. "Princess" is a 2-year-old rat terrier/mini-pinscher mix. She weighs 9 pounds and is spoiled. (I admit I'm a softy when it comes to discipline.) She barks at anyone and anything she sees. Her barks are shrill and can be annoying. But I live alone and feel she is protecting me. Richard can no longer tolerate Princess' barking and has curbed his visits considerably. Except for this issue, he is my dream guy, and I feel lucky to have found him. I was married for more than 20 years to a controlling man, and I had to defer or compromise on everything. I will not compromise on this. I feel Richard should understand my attachment to Princess, especially when he's not around.I miss him. Our dates are now only occasional. He thinks I prefer the dog over him, and that's not the case.
Most Lucrative Admirer, Dear Prudence
Where can we find us one of these?
I work in a very small office and have a very sweet colleague. While we have excellent rapport, we are not "friends" in the sense that we don't confide in each other or even meet each other outside of work. However, I really do like and respect her a lot. We were on our way back from work one day and decided to stop for a bite of lunch and window shopping. She really liked a piece of clothing, but decided not to buy it because of the price. I want to buy it for her but I don't want her to think I'm trying to show off my wealth (I'm not that rich) or her to feel obligated to buy me something in return. I just respect her and think she's been a fantastic colleague.
Quickest Turn-Around, Ask Amy
Already hates the ring he proposed with last night.
The man of my dreams asked me to marry him last night, and while I am so excited to get married to him, I was disappointed with the way he asked — and especially with the ring. He asked me on the eve of my birthday in the living room. This is fine, but he knows I would have much rather received this proposal in a natural setting. Money has been very tight, and sometimes we even struggle to find money for food. So I was not expecting a ring and couldn't believe it when he gave me one. However it is a very cheap ring, and while I love him very much and understand this is just a symbol, I would have preferred nothing to something chintzy. I would have rather saved and gotten something nice later or just wear a modest wedding band. Now I have to wear something that I don't really like for the rest of my life
Best Deus Ex Machina, The Ethicist
Magazine article reveals what social worker can't.
I'm a social worker in the adoption field. A woman who surrendered her infant decades ago asked me for information about the child, and I gave her as much as I legally could, which is not very much. (New York is a closed-records state.) Two days later, I picked up a magazine with an article about someone I recognized as this woman's child; the article mentioned the birth name, which was given by the woman I spoke to.
Most Inventive Masturbator, Dear Prudence
Where do they learn this stuff?
I came home early from work on Friday to the unexpected sound of the vacuum cleaner running in my 12-year-old son's room. Thinking that perhaps this was a sign of the apocalypse—my son cleaning his room without major nagging on my part—I burst in there and caught him with his pants down and the hose attachment attached to his, well, you know. He froze like a deer in the headlights and, after picking my jaw up off the floor, I mumbled something stupid like "excuse me" and turned around and walked out and hid in my room. He left to go to his dad's for the weekend shortly thereafter. He will be home tomorrow night after school and I don't know what to say to him.
Boldest Letter-Writer, Ask E. Jean
In love with three women, looking to make it four.
I'm a guy in love with three women. First, there's my second ex-wife. We had the greatest sex and tons of fun, but we also fought over everything and nothing. she'd like to "try again."…My current girlfriend can be a serious ballbuster, but the sex is damn near mind-blowing, and I think it might get even better…Then there's my ex-girlfriend—the most intense relationship I've ever experienced in my life…I know I should be putting my focus on my current girlfriend, and that's what I've been doing, being faithful and loving—but I miss my ex-wife! We're so similar, share so many viewpoints, have two great kids…but then, to make matters worse, I can't stop thinking about my ex-girlfriend…

P.S. Now, this will make you laugh, but with all the confusion I can also say you're hot, E. Jean, and I'd love to take you out.