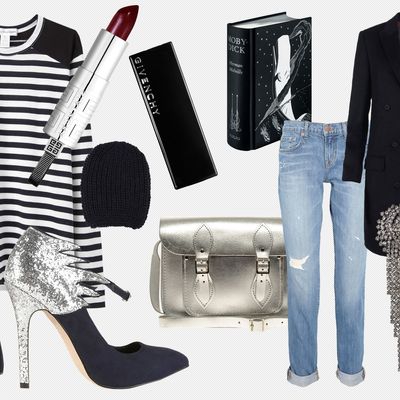 Every wardrobe needs one complete, go-to look. Each week, we invent a new one (and tell you exactly how to get it). Click on the image for a more detailed view.

With its curled tongues of silver glitter and navy blue suede, Topshop's festive heel is for the city girl who'd rather have the wind to her back, sailing on the open sea. For a day downtown, she'd dress down her sea legs with distressed jeans rolled just so and a Comme des Garçons sailor striped tee. On top, she'd choose a cozy double-breasted coat with a silver Cambridge satchel, then play up a knit beanie with silver dripping chandelier earrings.  While she mixes her all-hands-on-deck vibe with easy glamour, she also can't resist the charms of a good classic, like Melville's Moby Dick, or the more modern Rouge Interdit Satin Lipstick by Givenchy.
J Brand Aiden distressed boyfriend-fit jeans, $220; Forever 21 Wool-Blend Beanie, $7; the Cambridge Satchel Company Metallic Satchel, $205;  the Folio Society Hard Bound Edition of Moby Dick by Herman Melville, $380;  Givenchy Rouge Interdit Satin Lipstick in Black Plum, $30; AllSaints Aphex Coat, $550; Comme Des Garçons Shirt Man Stripe Tee, $186; Topshop Gasoline Glitter Flame Heels, $110; BCBG Rhinestone Waterfall Earrings, $38.