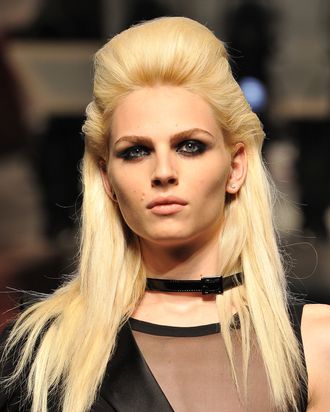 Photo: Pascal Le Segretain/Getty Images
The last thing you need to worry about when attending Ladies Day at the races is whether someone else will be wearing the same hat as you. So, for the day's festivities as part of Melbourne's Spring Racing Carnival, model Andrej Pejic had a great plan — he commissioned milliner Kerrie Stanley to design a piece paying tribute to the showstopping Treacy number Princess Beatrice wore to last year's royal wedding in London. Nobody else would show up in that, surely? 
Speaking with Pejic beforehand, Frockwriter revealed his planned look in full. A dusty-pink suit (sleeveless boyfriend jacket, "super skinny" trousers) by Melbourne-based designer Arthur Galan, "skyscraper heels," some bling, and the hat in question. But on the big day, things had changed, with Pejic attending in a different jacket and much less exciting headwear. He explained his new look away at first as the result of a spilled drink and his original hat not arriving in time, but, well, that's not true. 
Frockwriter and Australian newspaper The Age both report that race officials instructed Pejic that his first-choice hat was a no-no. After supplying Pejic with the "costume" idea in the first place, the company hosting his attendance, Swisse Vitamins, also informed his milliner of a last-minute "change of brief." A later statement confirmed: 
"The Victoria Racing Club was made aware that Andrej Pejic was considering attending in a tribute outfit. It was thought that this may have offended special guests at Flemington this week. The VRC approached Swisse, which readily agreed to an alternative ensemble."
That easily offended special guest: none other than Beatrice's hat's designer himself, Philip Treacy, in his second year as the Victoria Racing Club's international style ambassador. (It's unclear whether the request to can the original hat came from Treacy or the Racing Club — though The Age says it was Treacy.) While Stanley intended for the Beatrice-inspired hat to pay tribute to his work, officials clearly worried it would appear in bad taste. Pejic's model agent confirmed they just "wanted to keep the peace."
"It's just a hat at the end of the day. First world problem," Stanley told Frockwriter. But a problem serious enough to require a speedy fix — she whipped up Pejic's hat, take two (a bright-pink free-sculpted piece made from jinsin), in a matter of hours. Less regal, sure, but Pejic said "several sheikhs" also in attendance at the races found it entrancing enough and asked for his hand in marriage. As he also promised, he's saving "the vagina hat" for his wedding, so stay tuned for more as the story develops.