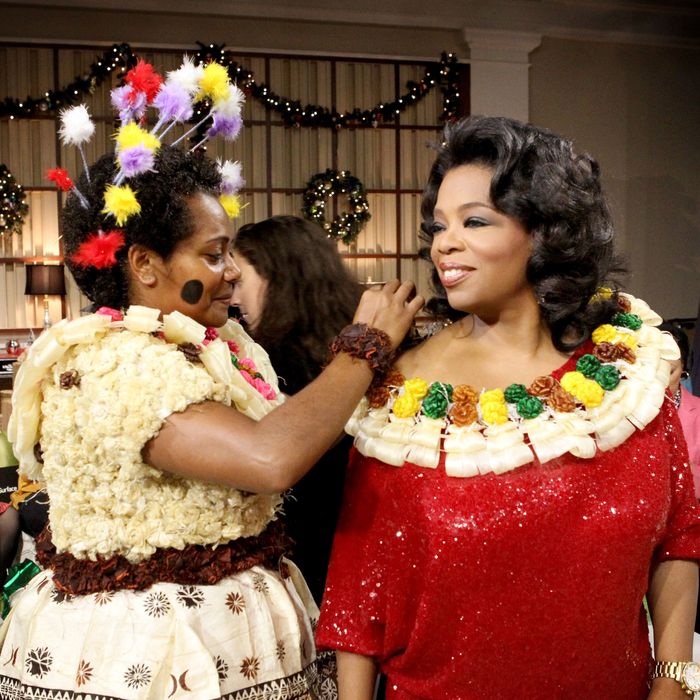 Photo: George Burns/Harpo, Inc
When Oprah's Favorite Things were revealed in a two-hour prime-time special on Sunday night, there was one thing notably absent from the list of items that Ms. Winfrey really loves: high ratings. OWN is ailing, and the decision to resurrect the "Favorite Things" franchise seems like a smart push to get more viewers clicking over. But according to Nielsen numbers sent to the Cut, the special averaged just over 870,000 viewers the first time it aired, which is strong for OWN, but one tenth of the nearly 9 million who watched when "Favorite Things" last aired on Oprah's daytime syndicated talk show in 2010.
"The 2012 show performed exactly as expected," Erik Logan, president of OWN and Harpo Studios told the Cut. "The good thing about Oprah having her own network is we can keep repeating the special," he adds, rattling off dates that it will re-air in December. But that math will likely never add up to the show's heyday in 2007, when Oprah gave her audience a Samsung camcorder, UGG boots, Josh Groban's Christmas CD, and O's Guide to Life. Nearly 11 million stay-at-home viewers watched along and then went out and bought these things.
The Oprah Effect — when she mentions something, people purchase it — is predicated in part on "Favorite Things," a brilliant ploy of a program that usually airs right before Thanksgiving, when holiday wish lists are still in their infancy. Since 2002, when the special first aired, Winfrey has served as a catalyst of over-the-top Christmas consumerism. She recognizes her role as a cheerleader for materialism; otherwise, she wouldn't have canceled the special in 2009, when the country was in recession. The year before that, she focused solely on affordable gifts, all of which her audience took home.
Now that "Oprah's Favorite Things" has come to OWN, the nice charity element remains: $10,000 worth of products were donated to the 30-person audience comprised entirely of military spouses. But for those sitting at home, the magic of this mostly annual television spectacle is long gone. As Gawker rightly pointed out, it seemed that Oprah was especially bonkers this season — perhaps because there weren't hundreds of audience members hitting each other, screaming, crying, and crawling under their seats each time she announced a gift. Without her writhing, orgasmically enthralled audience, she had to create her own chaos. Does that move product, though?
Representatives for O Magazine told the Cut that some of the gifts (which are also online and promoted in this month's issue of O Magazine) were selling well in the days after show, and Coach told us that they saw "a significant lift in sales of the Legacy Down Puffer almost immediately after the segment aired." Other fashion brands, like Oprah-favorite Ralph Lauren, couldn't comment.
"I don't think I will live to see the day that any show will reach the apex of selling power that Oprah's 'Favorite Things' show did when it was on network TV," says the pink PR power-maven Allison Brod, who has placed Judith Ripka, Gap, and several other brands on the show over the years. This year, earrings from her client Gemvara made the grade; Brod was especially glad to see that Oprah wore them throughout the program. But "the numbers just aren't around anymore," Brod adds. "Americans are too scattered. We have too much media to consume on too many channels and online." In other words, now that Oprah's not in living rooms daily, we realized we all prefer our own favorite things.