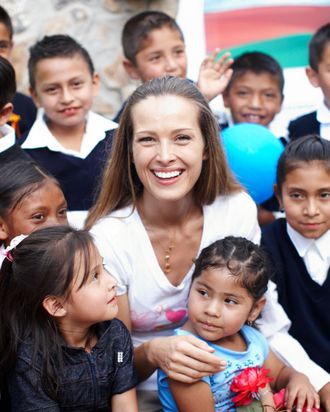 Photo: Courtesy of Happy Hearts Fund
Model Petra Nemcova announced a partnership with Clinique yesterday on the top floor of the Lowell hotel, over tea and pastries. It was a beautiful setting, with delicate china and lush upholstery, to be discussing a serious topic — the model's Happy Hearts Fund, which rebuilds schools in areas affected by natural disasters. "When first responders leave, when cameras leave, you see children being completely forgotten for five, ten years. And the biggest impact we could have was by creating safe, disaster-free schools," said Nemcova, who wore a cream tweed skirt, pink silk shirt, and the most perfectly tousled hair. As part of the partnership, Clinique introduced a Happy Heart fragrance and T-shirt; $10 from the sale of each fragrance and $5 from every T-shirt will go directly to Happy Hearts Fund.
"I have very little time to pamper myself. Even today, I was so excited to get ready for this event," she said, breaking out into laughter, which happens often when she's not talking about her charity work. Her favorite Clinique product? "I love the Chubby sticks. Chubby is my best friend. I can apply [the lip crayon] in the back of a truck on my way to a work site, or in a limo to a red carpet." Other beauty secrets come from her hometown in the Czech Republic. She spends each Christmas there with her family, where there are plenty of traditions. "When we're sitting at the table, we put honey on the cheek of another person," she says. "And it's all sticky and your hair sticks to it, but the meaning is so you will be beautiful for the next year." Okay, fine, we'll try it at home.