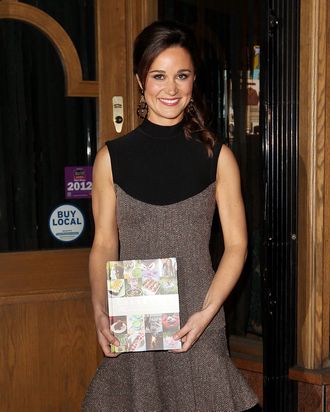 Pippa and her book.
Photo: Danny Martindale/Getty Images
Pippa Middleton's 400-page party-planning guide, Celebrate, has been met with widespread skepticism in the U.K. even though she gamely referenced her own bottom in the book's intro (sadly, no mentions of Kate, dwarves, or the gun). But despite Pippa's adorable Halloween party suggestions, only 2,000 copies of her books have been sold since its release on October 31, according to the Telegraph. It's currently in 177th place on Amazon's best-selling list in the U.K., and 303rd in the U.S.
In other words, the book is a flop. Or, as the Telegraph writes, sales are "as flat as last night's champers." Or … as droopy as yesterday's balloons? As soggy as old petit fours? As stale as leftover beer? As cold as abandoned baked Brie? Anyway, she clearly should have done her book tour in New York. Maybe it's not too late?
Related:
Pippa on Pumpkins, Her Bum, and More 
Is Pippa Middleton Moving to New York?!
Pippa Is Supposedly Rejecting Offers Left and Right