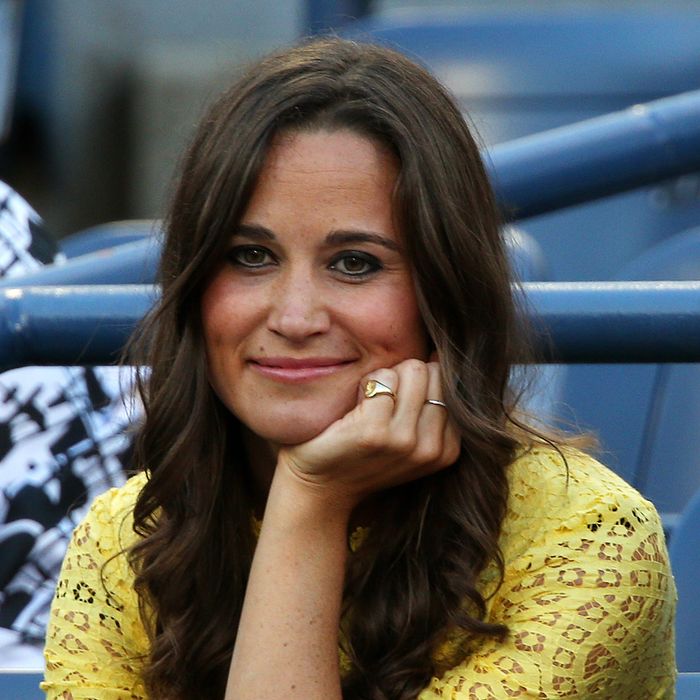 Photo: Clive Brunskill/Getty Images
Pippa Middleton and British model Edie Campbell exchanged harsh words at a private members' club in London over the weekend, thus providing gossip for at least the next week of the upper class's high-tea get-togethers. The Daily Mail reports "some girly tittle-tattle going on about Pippa's book" — as if finishing school in Switzerland taught the ladies nothing — with Campbell acting full Regina George. The resulting icy atmosphere meant Pippa had "to enquire as to whether there was some kind of problem … It was a case of a bit of a few feathers being ruffled." So there'll be a chapter in Celebrate's sequel about how to deal with barbed comments over post-dinner drinks, definitely.

As if the "tittle-tattle" from her peers wasn't bad enough, Celebrate received mostly poor reviews in the British press. Pippa penned a response in the Telegraph over the weekend, justifying her foodie qualifications. Sadly, it did not read as follows: "My sister's going to be queen, so deal with it." Instead, she writes about skills learned at cookery courses, working in a pub (she "reached the dizzy heights of chief 'ciabatta roll-maker'"), and helping her mother in the kitchen as a child. She manages to throw in a quick plug for the Middleton clan's Party Pieces business, and champions Celebrate effusively:
"My book on entertaining has been a labour of love. I have put my heart and soul into it, obsessing over every detail. I could have written a book that showcased the most extravagant or elaborate of occasions — after all, I spent three years working for an events company planning parties — but I wanted to produce something that was achievable; something that people would have on their shelves for years; something that was not too fussy — just simple and comforting."
Haters gonna hate.