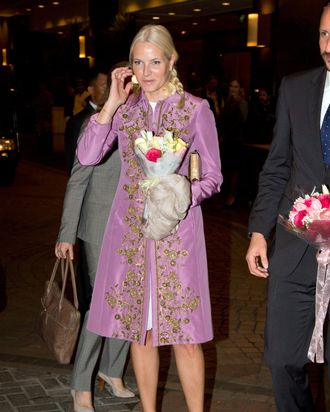 Princess Mette-Marit of Norway.
Photo: Julian Parker/UK Press/Getty Images
After Kate and William made their much-celebrated tour of Southeast Asia last summer, it was only a matter of time before another royal couple followed suit. After all, who wouldn't want to leave a cold, rainy European country for a tropical locale under the guise of diplomacy? Norwegian Crown Princess Mette-Marit and her husband, Crown Prince Haakon, are visiting Indonesia this week to strengthen ties between the countries; the trip obviously involves Mette-Marit wearing several nice but surely sweat-inducing outfits for photo-ops, like this lavender brocade coat dress, which she wore to check into their hotel in Jakarta yesterday. Here's hoping she tries a grass skirt sooner rather than later.
Related: In Shameless Celebration of Kate Middleton's Dance Moves