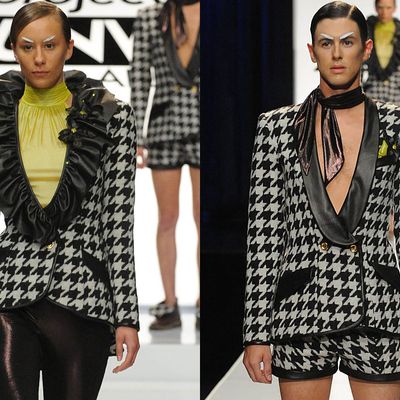 Welcome back, All Stars fans! I spent my Thanksgiving getting unduly weepy while reading Nina Garcia's Twitter feed, a holiday tradition I encourage you and yours to participate in. She just has so many feelings!
Carolyn comes out in a vest without a shirt underneath it and announces that it's androgyny week! (She also has a tiny bit of trouble pronouncing "androgyny.") The designers will have $150 and a single day to create an androgynous look that must also incorporate some avant-garde elements. This … does not seem like it will end well. After a brainstorming session where some super-questionable ideas are thrown out — oversize smoking jackets, etc. — it's off to Mood! Sidebar: I haven't spotted Swatch, the in-store dog at Mood, this season. Does his Project Runway contract not extend to All Stars? 
Just as the designers are getting settled back in the workroom, Georgina arrives to announce a twist: The designers' models will be men. Uli's immediate response is "Oh my God, that's impossible," while Laura says, "Thank goodness I left a massive amount of seam allowance!" It turns out that there's a second twist: The designers will have to make a look for their male model and a second look for the female model that they normally work with. Fortunately, they'll be given an extra day to work and a second trip to Mood. It's not particularly interesting as Runway twists go, and I'm a little surprised at how incredulous some of the designers seem. Then again, it's not their first time on the set of a reality show, so they might just be really good fakers.
Joanna comes to the workroom for critiques and announces that the judges really need to see the designers produce better work than they did in the previous week. Given that I can't remember a single look from the last episode, I'm inclined to agree. Joanna praises the detail and trim of Uli's look and is delighted when she refers to sewing shorts with plenty of "ball room." She likes Anthony Ryan's look but is worried that his model might look "like a wasp" — the insect, not the Protestant. Joanna categorizes Althea's look as "costumes for a religious sect" and listens politely while Joshua explains that he wants the fur detailing on his garment to look like a pony's mane, but she's most impressed with Emilio's look. She also warns the designers to make sure their detailing is impeccable, lest Georgina "swoop in on it like a crow on a carcass."
The female models come in for fittings, and poor Cassanova, who's working exclusively in gold leather, is out of material and has a garment that barely fits his girl. Ivy tells him that he can fix the problem, and once again, I'm touched by the way they've helped each other out. What's the word for bromance if it's between a man and a woman? After a great deal of debate about whether the male models should wear women's shoes (consensus: no), it's time to get ready for the runway. Everyone is more pressed for time than normal — Joshua says he's "basically going to have to become Helen Keller in The Miracle Worker" in order to get anything done. (The follow-up jokes to that are all too easy.)
At the runway, the judges are joined by Jason Wu and Robert Rodriguez, and the whole affair is kind of a hot mess, since many of the designers have carried on the Runway tradition of not understanding that the terms "avant-garde" and "circus" aren't universally interchangeable. There's a brief scene of Ivy and Joshua — both safe — tearing into each other backstage because Joshua's angry that he hasn't won a challenge yet, and Ivy accuses him of having a huge ego. His response, which is perfect, is that you shouldn't be in a competition if you don't have enough of an ego to think you can win. More than anything, their exchange underscores how low on drama this season has been, and in this case, "low on drama" is quickly becoming the polite way of saying "boring." In the end, Emilio's near-matching suits get him the win, and Kayne's houndstooth and leather fiasco sends him home.
Next week, Diane von Furstenberg guest-judges! Pre-Christmas miracle!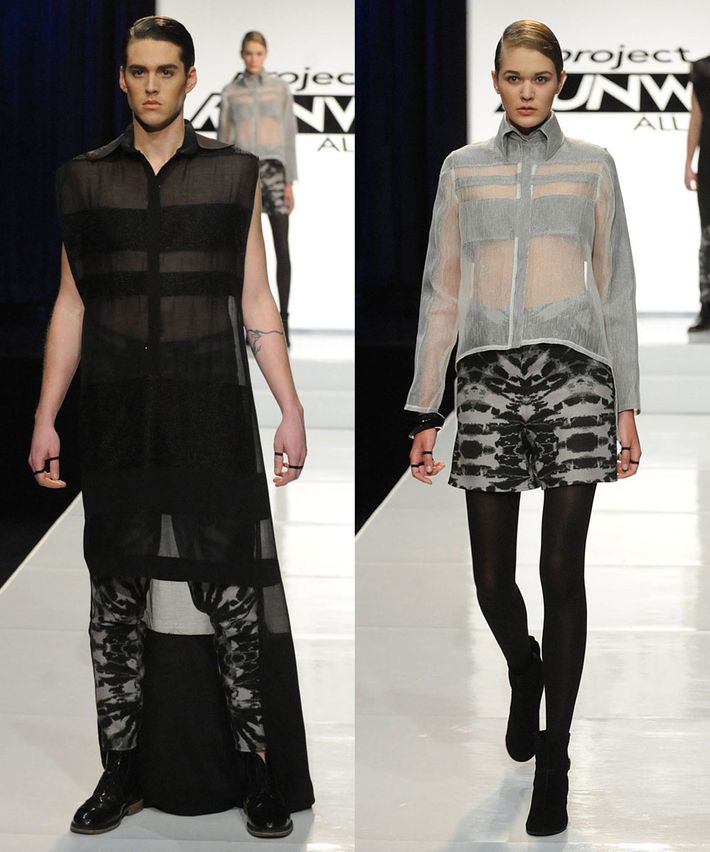 Anthony Ryan Auld – Top Three 
Anthony wanted to address the softer side of androgyny in his look, and his approach really paid off. Isaac's only feedback was "Anthony Ryan, you're so good every week!" Robert said the overall look was really wearable, and Georgina praised him for doing something other than a dress, which is what she'd encouraged him to do last week. All of the judges pointed out how he'd created interesting textures and prints with a low budget. Looking at the dress he made for his male model, I couldn't help thinking about Fabio, from the last season of Runway, and how much he'd like wearing it.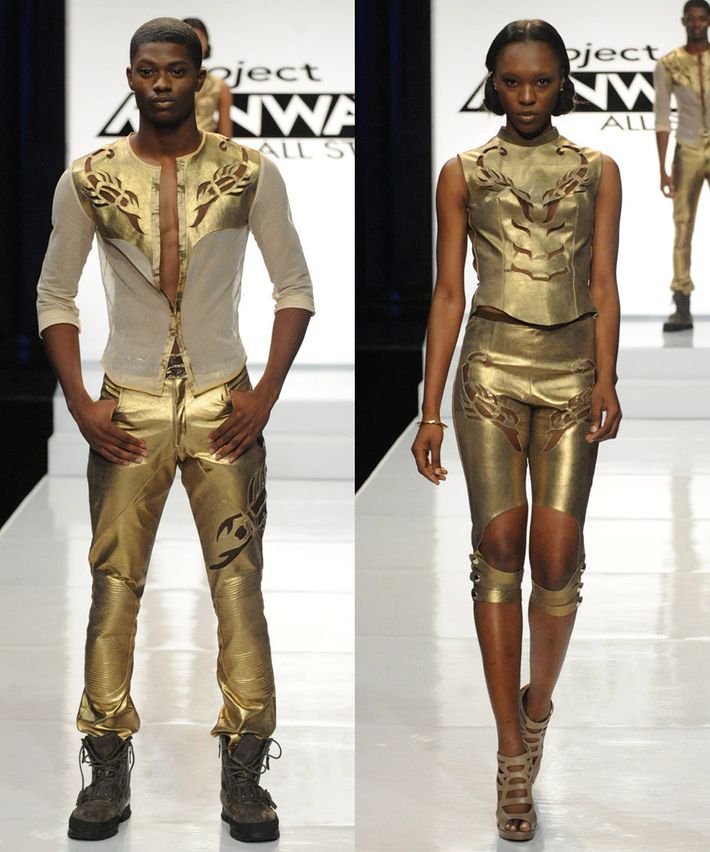 Cassanova – Bottom Three
These looks would make really, really excellent costumes for tributes at the Hunger Games, and that's not necessarily an insult, but it doesn't speak well for Cassanova's ability to meet the challenge. Georgina said that the looks aren't truly androgynous, and the rest of the judges agreed that the looks were good but didn't meet the criteria of the challenge. Robert said, "I do love scorpions, but I didn't like the whole motif all over." It's really impressive that Cassanova can pull off such intricate cutout work, but he tends to rely on tricks like that a little heavily.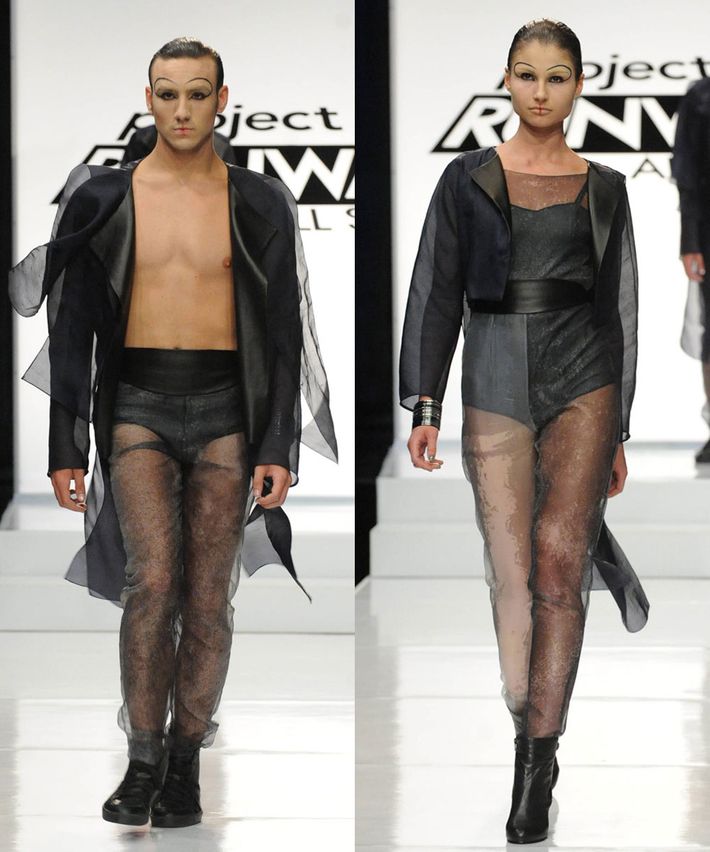 Ivy Higa
Where to begin with Ivy's looks? Even without the makeup, they read as circus acrobat costumes, and they don't go beyond costume. You could make the argument that they're androgynous — I mean, the man's "shirt" is basically a sheet wrapped around his shoulders, which is flattering and appropriate for both genders — but they're not wearable at all, unless you're one of the aforementioned acrobats or maybe a dolphin tamer or in a sixth-grade science-class skit about bats.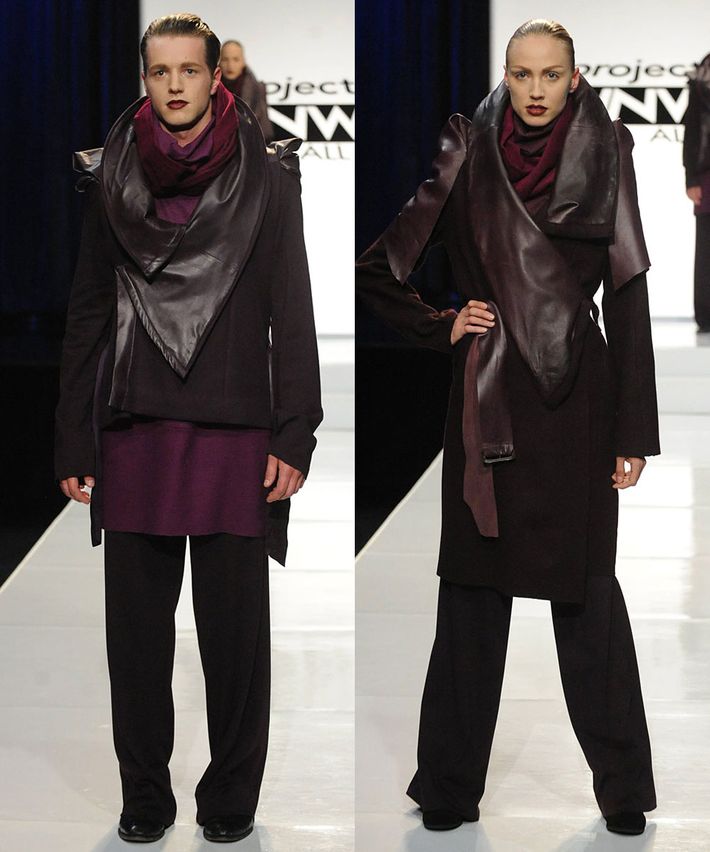 Althea Harper 
When Joanna was critiquing Althea's looks, she said that the overall aesthetic really reminded her of the creepy cult people in Eyes Wide Shut; Anthony Ryan said the looks were best suited for Jedi flight attendants. Althea definitely has construction skills, and the jackets are well put together, but is there a difference between androgyny and unisex? I feel like with outerwear, there's so much more gray area to between the two to begin with, and so this look isn't able to stand out within the parameters of the challenge.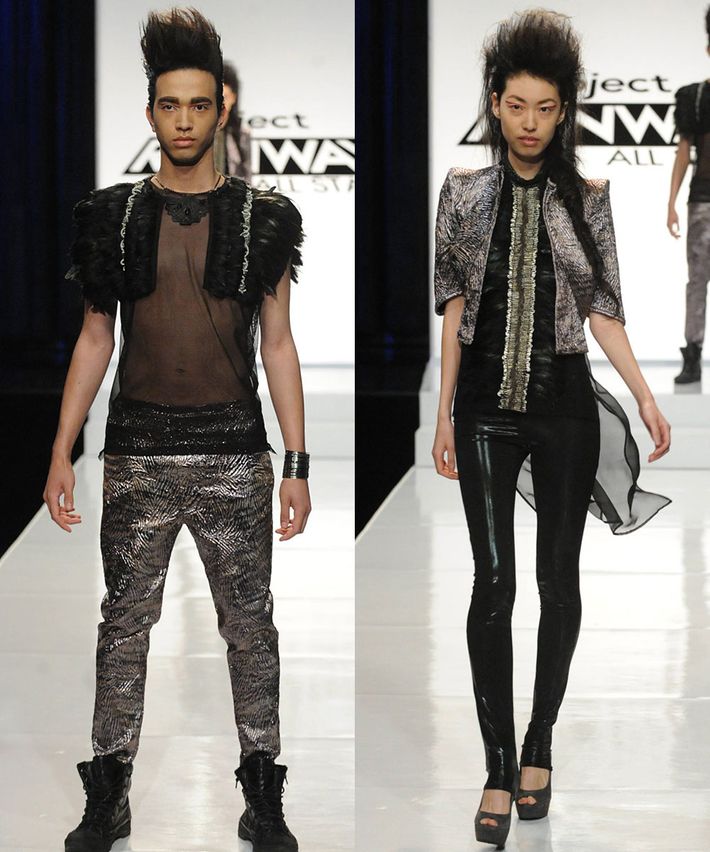 Uli Herzner – Top Three
Uli said that androgyny varies from culture to culture and that her look was based on "tribal androgyny." I'm not sure what she meant, exactly, but the judges praised the brocade trim that she put together — Isaacc referred to it as "apocalyptic Pink." All of the judges praised how interchangeable the different pieces were, and Robert said he'd definitely wear the pants. For as apprehensive as she was about this challenge, it's great to see Uli pull this off, even if I'm skeptical about how wearable this is if you're not in the cast of Warriors.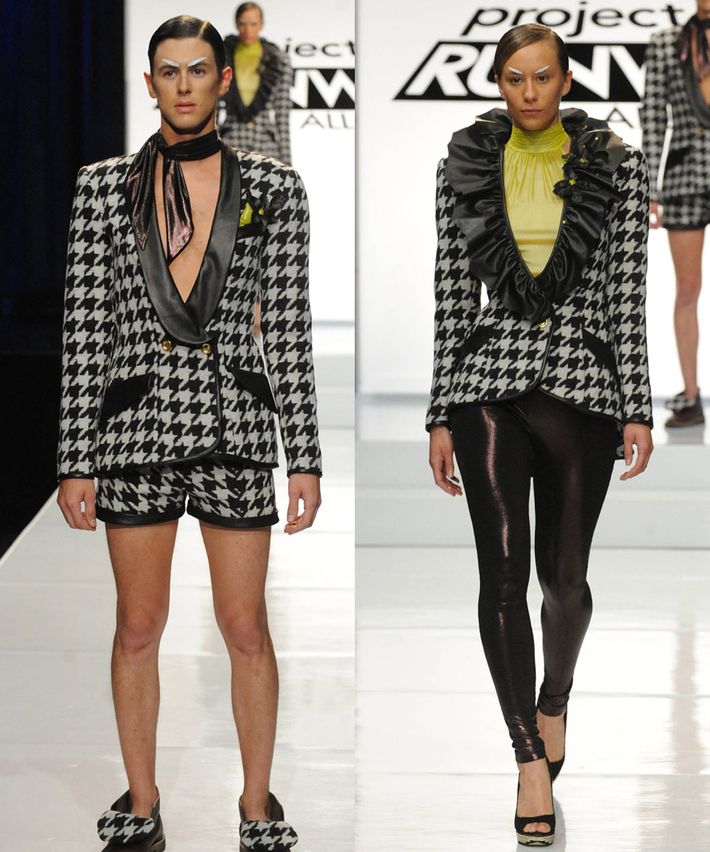 Kayne Gillaspie – Eliminated
Carolyn was upset because she felt Kayne had the opportunity to make something fabulous and fell short. The color juxtaposed with the jacket didn't work at all — Carolyn said she'd have preferred the model to be topless — and while the judges liked the houndstooth, they thought the look was a mess overall. What baffles me is that the judges talked about how his male model looked so much better. I can't think of a word to describe the male model's look other than silly. Extremely, profoundly silly.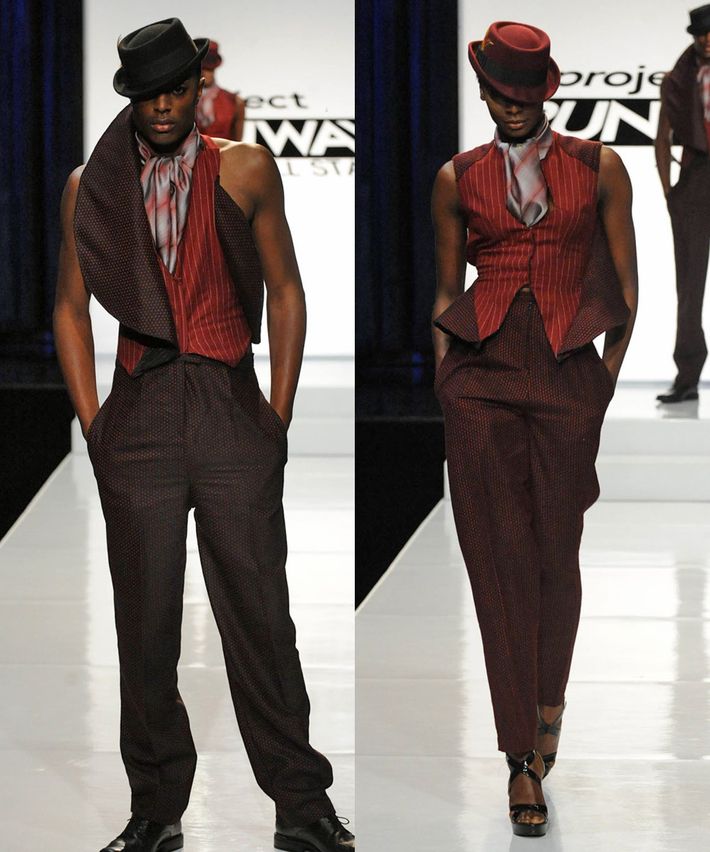 Emilio Sosa – Winner
Emilio wanted to use menswear fabrics from the beginning of the challenge; when the designers were given the twist, he decided to keep using the same fabric, but use both sides. Georgina praised the attention to detail and the way the semi circles are used to create structure. Robert's praise was that he couldn't tell which was the man and which was the woman, and Jason said that this, to him, is what androgyny does and should look like. Carolyn said she couldn't stop looking at the male model, who was "so painfully gorgeous" in the look, and Isaac wondered if maybe it was "too reliant on the hat," which sounds like the title of a delightful poem.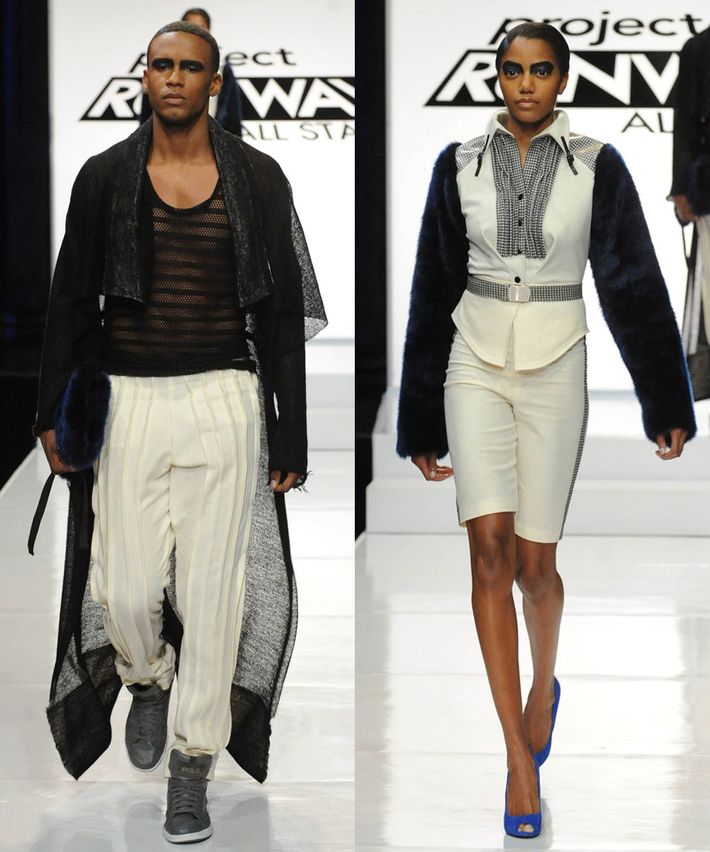 Joshua McKinley 
When this look came down the runway, Joshua described it as "pure innovation" and thought the way the looks complimented each other was very impactful. They did make an impact on the runway, but there was so much going on, and not all of it was good. Joshua's really enamored with lace-up backs — I've seen them on at least three of his looks so far this season — and puffed sleeves. Those elements on top of the sheer fabric on top of velvet on top of who knows what else wound up making the look seem cheap, as opposed to Anthony's use of layering and texture, which made his look seem more expensive.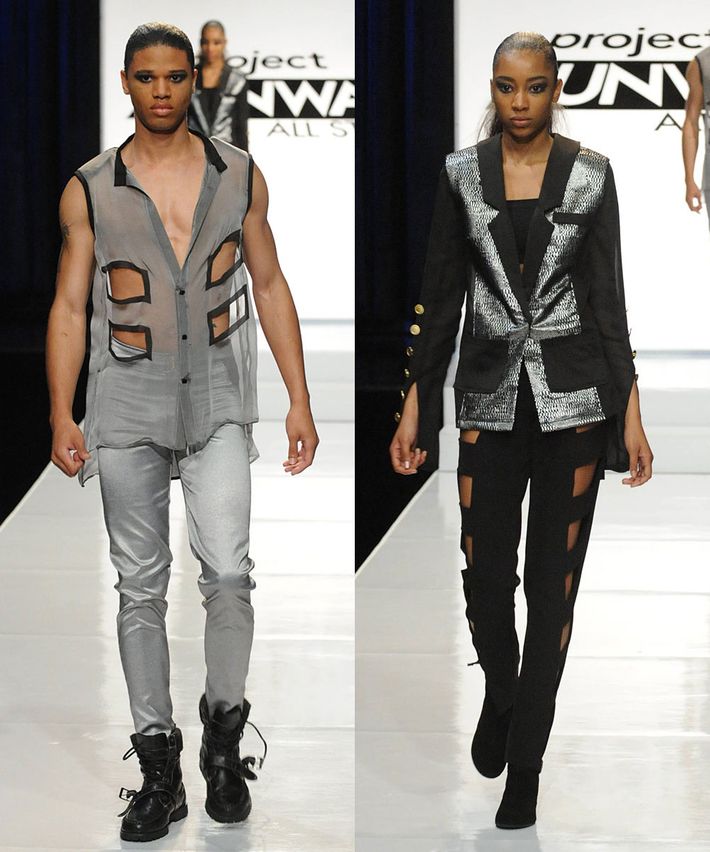 Laura Kathleen – Bottom Three
Laura talked about how this challenge was difficult for her as a very feminine designer, and Isaac immediately agreed with her in a patronizing, school principal sort of way. He then pointed out that the textiles didn't look particularly expensive, and Jason said that there were too many ideas going on and that it didn't seem like she'd edited at all. Carolyn didn't like the details, especially the gold buttons and the cutouts. Jason said that the looks looked "very poor," and Georgina had an actual list of details that she didn't like about it.